Nearly as popular as hardwood flooring, tile is a premier material when it comes to durability, aesthetic, maintenance and cost. If you are planning a new flooring project, consider these benefits of tile:
Cost Efficient - While tile is not the least expensive flooring option, it is certainly more affordable than most hardwoods. For price conscious homeowners, tile can be a great option for kitchens, bathrooms and even bedrooms.
Long Lasting - Tile flooring is usually made from ceramic or porcelain and glazed to protect from stains, scratches and wear and tear. If your home receives a lot of foot traffic, a tile floor is guaranteed to last decades. While strong impact can crack tiles, they are easily and inexpensively replaced.
Cooling - For homes in hotter climates, tile is an essential. The surface of tiles stays cool even on the hottest days of summer, allowing homeowners to keep utility bills low.
Beautiful - While hardwood may be classic, tile is simply stunning. The patterns, colors and textures available in tile are unmatched by hardwood. For those who want to make a statement with their flooring, tile is the way to go.
Easy to Maintain - One of the biggest benefits to homeowners when it comes to tile flooring is care and maintenance. Tile is water resistant and does not stain easily. Dirt and dust does not stick to tile, making it a great choice for those with allergies. Simply sweep and mop up any debris and your tile floor will look brand new!
Great Floors & Great Impressions are What We are All About!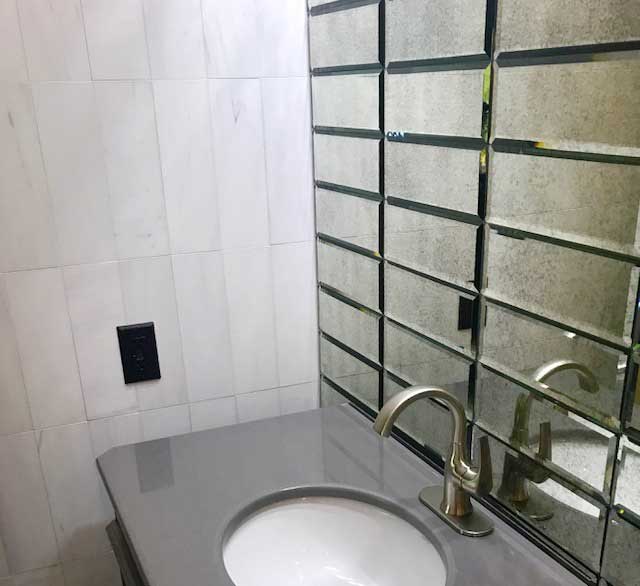 If you've been searching for "Arlington tile installers near me," Footprints Floors has you covered. Our expert flooring contractor team can install, repair and replace tile in any room of your home. Once you've chosen your preferred tile, we will come prep, install and finish the job! For a full renovation, consider pairing your tile floor installation with our backsplash and counter services.
Contact us today for a free quote.
Professional
Flooring Installation
---
Footprints Floors works with all flooring vendors to provide the highest quality installation at a fraction of the cost. Our flooring contractors can help you choose the best flooring options for your needs and your budget and recommend vendors that we trust. Contact Footprints Floors to schedule an estimate and consultation!
View Flooring Gallery