A More Convenient Estimate ...
VIRTUAL!
---
At Footprints Floors in Houston, we are constantly working to streamline and innovate our processes to increase customer satisfaction and decrease stress and inconvenience. As a result of this commitment, we are now offering free virtual estimates in addition to our free in-home estimates. Footprints Floors virtual estimates are perfect for customers whose schedules aren't able to accommodate an in-home estimate or for those who would just prefer taking care of their estimate remotely.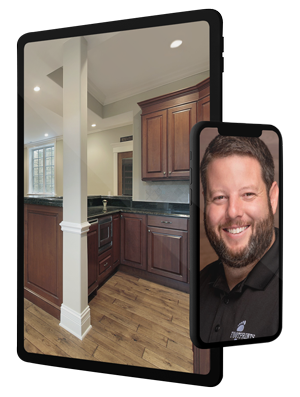 How It Works
So, you've decided it's time to refinish, replace, or repair your existing floors, or maybe you're interested in a new installation, but how can you get the ball rolling on what may seem like a pretty big project?
1.
Submit a virtual estimate request by clicking the "Get Virtual Estimate" button or by calling Footprints Floors in Houston at 832-734-5520.
2.
Schedule a time for your virtual estimate with one of our Customer Service Representatives.
3.
Prepare for your virtual estimate with a measuring tape and a compatible smart device connected to FaceTime, Google Duo or Skype
4.
We'll help you get all the right measurements, answer any questions you may have, and send you an estimate when we're finished.
When the time comes for you to receive your free virtual estimate, Footprints Floors in Houston will contact you via FaceTime, Google Duo or Skype as scheduled. We are knowledgeable and friendly and will help walk you through the virtual estimate from start to finish, along with answering any questions you may have along the way.
Here are a few tips in order to help your virtual estimate go smoothly:
---
In order to provide you with an accurate virtual estimate, we will need the dimensions of the applicable floor and/or wall. To obtain these dimensions, use a measuring tape to measure the length and the width of the project and provide them to us.
If the project spans multiple rooms, please provide us with the length and width of each room.
Familiarize yourself with FaceTime, Google Duo or Skype. If you haven't already, download and sign in to FaceTime (iPhone, iPad or Mac), Google Duo (Android, iOS, Mac, PC), or Skype (iOS, Android, Mac, PC).
Need help with learning how to measure a room? More detailed instructions can be found here .
Free Virtual Estimate
Submit a request here and one of our customer service representatives will contact you shortly.
---
Apply in minutes and receive your funds in a few business days.

Financing Available
Footprints Floors offers homeowner financing through Joist. Joist provides the financing, and all payments for financed projects are handled through Joist, including financing application and payment to Footprints Floors for the project. If you are the customer, you will see a link to apply when you receive an estimate from us, and you can simply apply right from our estimate!