Call To Schedule
or submit your information below
Submit your basic information below, and we will contact you to schedule your free in-home estimate!

Call To Schedule
FREE In-Home Estimate
Premier Flooring & Baseboard Installation
Huntington Baseboard Installation From Top Industry Professionals
---
Baseboard installation in your home can be a time-consuming and frustrating task. It is also one of those jobs you need to get right the first time because it will be challenging to fix any mistakes later on.
If you plan to install new flooring or renovate your bathroom or kitchen, installing baseboards is probably not at the top of your list of things to do. You may have more immediate decisions to make in order to get the floors you want. To help with this vital step of flooring installation, Footprints Floors provides top-rated baseboard installation in Huntington that will ensure your renovation goes smoothly without costing you more time or money than necessary.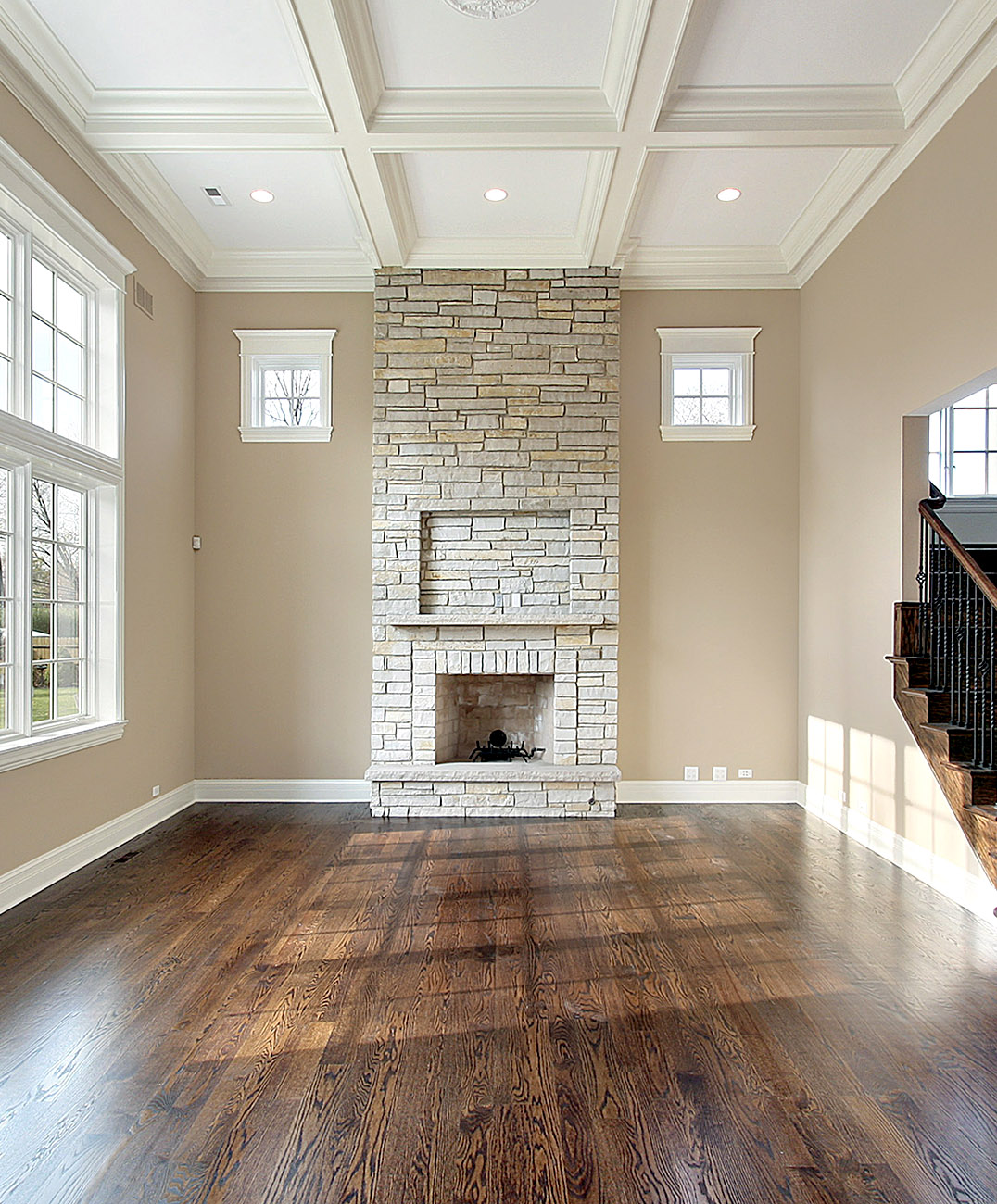 Why is Baseboard Installation Necessary?
While many homeowners do not consider baseboards in the flooring installation process, the majority of the time it is necessary to remove and reinstall baseboards to properly take out the old flooring and to install the new.
Switching from a thick carpet to thinner wood flooring can make repositioning baseboards necessary as well. If not done right, a gap could be created between the bottom of the baseboard and the new flooring that used to sit flush on higher flooring. In cases like this, it is necessary to remove the baseboards and reposition them lower down. When installing certain types of flooring like vinyl and laminate, the baseboards are as functional as they are decorative since the flooring is not directly attached to the subfloor and the baseboards are needed to hold it securely in place.
If you plan to update your baseboards simultaneously as you install new flooring, professional installers from Footprints Floors can handle everything from removing and repairing to reinstalling and re-positioning your baseboards.
Baseboard Installation Styles
---
Baseboards come in a number of profiles and materials. The baseboard style you choose can make a significant difference to the overall aesthetic of your room. Even if it seems like a small detail, it can make a huge impact on the finished look.
When you are renovating a house or planning to build one, pay attention to the trim and moulding options available. Some are more appropriate for certain parts of the home than others. Consider the overall aesthetic of the space and whether you should opt for a traditional or modern style of baseboard. Choosing the right type of baseboard is essential and depends upon several factors, including the style of your home, your chosen flooring material, and your budget.
Flat
---
For the most simple and clean baseboard type, this modern style is an excellent option. For a room that has a more minimalist look, you may choose to have flat baseboards installed. These are most often found in craftsman and contemporary homes. Regardless of the interior design style, the basic baseboard style is versatile and will work well in any room.
It's generally a good idea to opt for MDF baseboards since it's a more affordable material than solid wood, has a very smooth surface, and can easily be painted. Most baseboard styles, including flat, are available in MDF.
Profiled
---
The most traditional baseboard available is the profiled option, also known as rounded and stepped. It offers a combination of clean lines and intricate curves. Within this category are many cuts, heights, and thickness options. They are typically available in MDF as well as hardwood, and even flexible styles, which are best for curved walls and staircases.
Jointed
---
Two-piece jointed mouldings are a combination of flat and profiled pieces. Curved profile caps are added to the flat moulding in endless variations and can achieve a sophisticated, unique end result. They are typically a higher baseboard and make a strong statement. Because there are so many cap profiles and sizes, and because they require expert installation to ensure the lines between the board and caps are seamless, this baseboard type is best installed by a professional flooring contractor.
Get a Free Estimate Today!
Schedule
Your Flooring & Baseboard Installation Today
---
Our flooring contractors in Huntington are reliable and vetted, clean, trustworthy and professional. If you live on a property while renovation work is being done, we understand the inconvenience that this may cause. Our goal at Footprints Floors is to complete all flooring and baseboard installation projects on time, within your budget and with the least amount of disruption to your home.
Footprints Floors offers professional baseboard installation services in conjunction with hardwood flooring, laminate, ceramic tile, vinyl plank, and more. We understand that time is money, so we work fast! Our team aims to complete installation projects quickly while maintaining high-quality standards throughout the whole process. We offer free estimates for all our baseboard installation service calls in Huntington — which means there are no surprises when you choose us. Contact Footprints Floors for your free estimate today!