Vinyl has been a popular flooring choice for homeowners for many decades. With the ability to mimic the appearance of nearly every flooring type, vinyl offers homeowners a chance to install their dream floor on a budget.
While traditional vinyl flooring is made of one, long continuous sheet, luxury vinyl technology has improved in function and appearance.
Luxury vinyl plank (LVP) is a great option for those who want the appearance of hardwood flooring or stone slabs.
Luxury vinyl tile (LVT) is designed to look like ceramic tile and fits together in a variety of designs.
Luxury vinyl tile is suitable to use in any room of your home. It is popular in bathrooms and kitchens. LVT is built to stand up to daily wear and tear and can be even more durable that traditional tile flooring. The thickness of multiple, fused layers offer durability while protective top layers are water and stain resistant. Sweeping, mopping and gentle cleaning is all that is needed to keep luxury vinyl tile in tip top shape.
Great Floors & Great Impressions are What We are All About!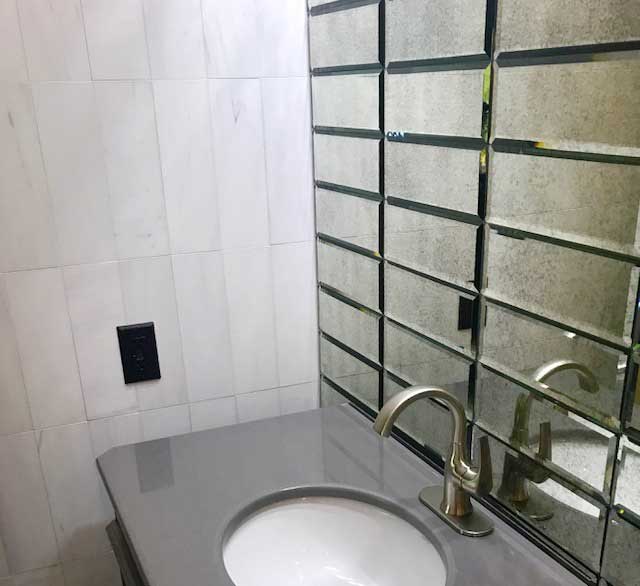 Install Luxury Vinyl Tile Today
While LVT is great for budget conscious homeowners, Footprints Floors helps you save even more. We keep our installation prices low by eliminating showrooms and inventory. Simply choose and purchase your preferred LVT flooring and call to schedule and installation with us. Our craftsmen pay close attention to detail, ensuring you're left with the beautiful floor you envisioned when purchasing your LVT. Contact us today to schedule a free estimate for LVT flooring installation.
Professional
Flooring Installation
---
Footprints Floors works with all flooring vendors to provide the highest quality installation at a fraction of the cost. Our flooring contractors can help you choose the best flooring options for your needs and your budget and recommend vendors that we trust. Contact Footprints Floors to schedule an estimate and consultation!
View Flooring Gallery