Call To Schedule
or submit your information below
Submit your basic information below, and we will contact you to schedule your free in-home estimate!

Call To Schedule
FREE In-Home Estimate
Premier Staircase Flooring Installation
Madison Flooring Installation For Stairs From Top Industry Professionals
---
If you've started or are considering a home renovation, you've probably thought about the big things; a kitchen remodel, maybe a bathroom update. But have you considered giving your home a facelift by getting your stairs redone?
The staircase is often one of a home's most prominent architectural features. Having an outdated or worn down staircase can take away from a home's updated features and even deter potential homebuyers. A staircase remodel can instantly lift the appearance and aesthetics of your home. A well-maintained staircase is also an important part of keeping your home safe, as worn steps or loose parts can become dangerous.
Footprints Floors is your one-stop shop for all your staircase remodeling needs. If you've been searching for flooring for stairs or looking to replace your current wood stairs in Madison, our staircase installers handle everything! From start to finish, we provide a seamless experience.
Great Floors & Great Impressions Are What We Are All About!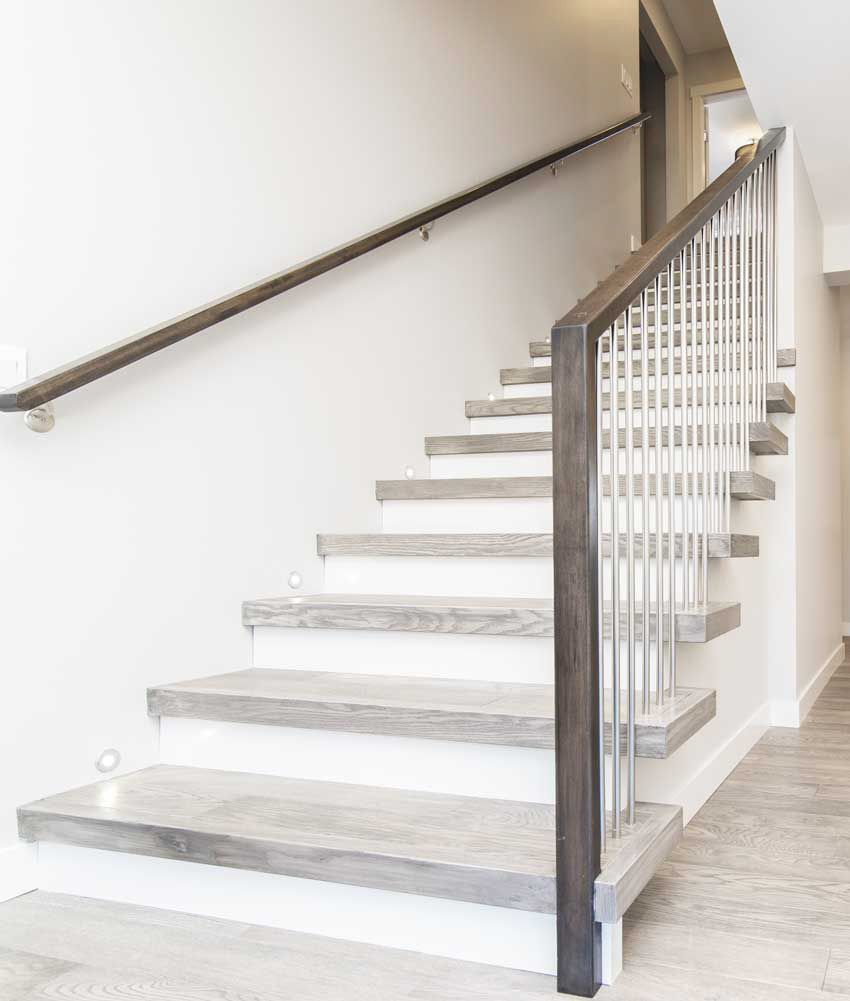 Why Remodel Your Stairs During


Renovation?

Stairs are a beautiful architectural piece in your home, but there are many other reasons it's a good idea to keep them updated. Whether it's a full-scale remodel to match a home's new look or just a new set of treads and risers, keeping your stairs in good shape is good practice as a homeowner.
Safety:

A staircase is one of the highest traffic areas in a home, and as they become worn down over time, they can quickly become a safety hazard. Old stairs can become loose as the foundation settles, and wood stairs that aren't maintained can become slippery. Loose holds or wobbly steps can also be dangerous. Well-kept stairs are less likely to lead to a fall, slip or other accident.

Home Value:

In addition to making a home safe, an updated staircase is an important contributor to a home's value. Scuffed or worn risers, broken spindles or steps that need to be refinished can lower home value.

Appeal:

Along with increased home value, a beautiful staircase also has increased buyer appeal. If the staircase doesn't match the rest of the home, it can be a drawback.
What is Stone Flooring?
Stone flooring may be a good choice for those who prefer an earthy feel. One can choose from many stone flooring types, including limestone, travertine, granite, marble and slate. The characteristics of those options will vary with each choice.
Limestone
---
Limestone flooring is a type of stone flooring that can be found in many modern-day residences. This type of stone flooring is not only popular, but also has many benefits. Limestone floors are one of the most durable types of materials due to their tough and heavy characteristics.
Limestone floors can hold up against scratches and spills, which means they do not need to be refinished as often as other materials.
Travertine
---
Travertine flooring is made of limestone that has been compacted and cemented together. Travertine comes in various colors, from tan, to brown, to black, each with unique characteristics.
Travertine can be challenging to install on your own due to the weight of the stone and the fact that it may not adhere if not correctly pressed down onto a surface. Travertine flooring will have a natural feel, as all the color variations come from natural impurities in the stone's formation.
Granite
---
Granite is an igneous rock that has formed over millions of years by the cooling and solidifying magma below Earth's surface. It is one of the hardest natural materials known to man. Granite's physical characteristics make it preferable for flooring as it has a uniform grain and texture, making each slab naturally easy to split into slabs.
The uniformity of granite also means that there are rarely any surprises with the final product because every piece will look similar to its neighbors.
Granite flooring is resistant to heat, water, scratches and stains, making it great for kitchens and bathrooms where spills are common. It is also very durable, so the stone can be used in areas with heavy traffic such as hallways or foyers without wearing down or becoming damaged easily. The surface of granite has a low porosity which makes it resistant to dirt buildup.
Marble
---
Marble is a metamorphic rock of mineral aggregate, with variable hardness and a high natural polish. It can be used as a cheaper alternative to granite flooring.
Marble slabs are generally more economical than granite slabs. Although marble slabs have a glossy appearance, they may have a slight sheen or texture that makes them less desirable for high-traffic areas at first glance. Still, marble slabs offer many of the same benefits as granite slabs with less expense involved.
Slate
---
Slate flooring is a type of stone that is found in metamorphic rocks. Slate is mined from the earth and then worked to create versatile flooring options for different applications. Slate can be polished to have a high sheen, matte finish — or somewhere in between. There are also textured slates available for those who want a more rustic look without the additional cost of installation.
Schedule
Your Staircase Floor Installation Today
---
At Footprints Floors, we know it isn't pleasant to live through any sort of remodel. This is especially true of flooring for flooring for stairs, which are one of the most used parts of a home. That's why we work hard to make your staircase remodel or renovation a smooth, efficient experience.
Our expert staircase and floor installers handle everything from prepwork to installation — all with as little disruption to your routine as possible. We pride ourselves on clean, trustworthy work.
Contact Footprints Floors today for your installation estimate!
Get a Free Estimate Today!