Call To Schedule
or submit your information below
Submit your basic information below, and we will contact you to schedule your free in-home estimate!

Call To Schedule
FREE In-Home Estimate
Premier Vinyl & LVP Floor Installation
From Top Industry Professionals In Carmel
---
Vinyl flooring or LVP flooring (luxury vinyl plank) have become some of the most popular flooring choices for homes today. This is true for new builds and flooring renovations done in older homes. There is good reason for this popularity. Although traditional flooring with natural hardwood and stone will always be desirable, the cost can be unattainable for many. Furthermore, hardwood flooring is vulnerable to scratches and damage. Repairs for these authentic materials are not as simple or as affordable as their modern counterparts in vinyl.
Vinyl flooring is both aesthetically appealing and financially accessible. The versatile selection of patterns and the durability of vinyl make it an option for any home with any aesthetic. This is why we see this kind of flooring in homes both old and new. Whatever your flooring needs and desires may be, there is a vinyl floor that will satisfy both.
At Footprints Floors we specialize in the installation of vinyl and LVP flooring. If you are currently in search of LVP or vinyl floor installation in Carmel, give Footprints Floors a call and request a free consultation. We are qualified to ensure that our clients receive the highest quality flooring installation experience.
Whether you choose traditional sheet vinyl or LVP (luxury vinyl plank) flooring, the Footprints Floors team can expertly install your vinyl for you. Our vinyl flooring contractors in Carmel will prep, install and finish your flooring project and clean up after, leaving you with a beautiful new space. We focus on providing quality installation services and, by leaving the material selection and purchase up to you, are able to do so at industry low pricing.
LVP or Traditional Vinyl?
Appearance
---
LVP flooring, or luxury vinyl plank, comes in long planks. Traditional vinyl comes in one long sheet, giving it a rather unrealistic appearance and making it almost impossible to repair without replacing the entire floor. LVP flooring has a more natural look and easily mimics hardwood or stone slab flooring.
Durability
---
Homeowners looking for durability will prefer LVP flooring as it is much thicker than traditional vinyl. This thickness adds additional wear, tear and scratch protection.
Water-Resistance
---
While LVP flooring is water-resistant, homeowners should take care to avoid large spills as excessive water can damage LVP flooring. Traditional sheet vinyl is considered waterproof and may be preferred in bathrooms or mudrooms.
Maintenance
---
Both traditional sheet vinyl and luxury vinyl flooring are easy to maintain and care for. Sweeping, mopping and the occasional steam clean will keep your vinyl floors looking brand new for years to come.
Get a Free Estimate Today!
LVP or Traditional Vinyl Floor

Installation Process
---
When you've hired Footprints Floors for your vinyl or LVP flooring installation in Carmel, you can count on a few things including professional skilled installers, affordable rates, quality installation results, and efficient preparation and clean-up.
Professional vinyl installation in Carmel is always a good idea as long as detailed steps are followed to avoid bulging, gaping, and spreading.
Purchase Your Vinyl or LVP
It's your home. Choose the sheet vinyl, LVP (luxury vinyl plank), or LVT (luxury vinyl tile) you want and that fits within your desired budget. Let your personality shine through. We know you have great style.
Prepare The Area
Before we begin, we make sure your subfloor is ready for the installation of your new LVP or vinyl floors. Your base floor will be cleaned, but we also must make sure your subfloor is level and smooth. In the case that we cannot make it level or smooth enough, we will inform you with options before continuing with the tear out of your old floors. Laying vinyl on uneven surfaces, such as cracked concrete for example, may require additional subfloor preparation (usually with additional costs) to ensure you totally love your new vinyl flooring end results!
Installation
Our team of expert craftsmen provides special care and performs the installation with extreme attention to detail when it comes to laying down your vinyl flooring plank by plank. It is very important that a professionals like Footprints Floors install your subfloor and vinyl planks, as the cuts, spacing, placement and lay-down process of all materials are critical for ensuring long-lasting beauty and durability.
Clean Up
After the viny installation process is complete, the crew will clean up after themselves, leaving your home just as it was when they got there. You can expect our Carmel viny / LVP flooring contractors to treat you and your home with respect. For expert vinyl flooring services and quality customer care, you can count on Footprints Floors Carmel.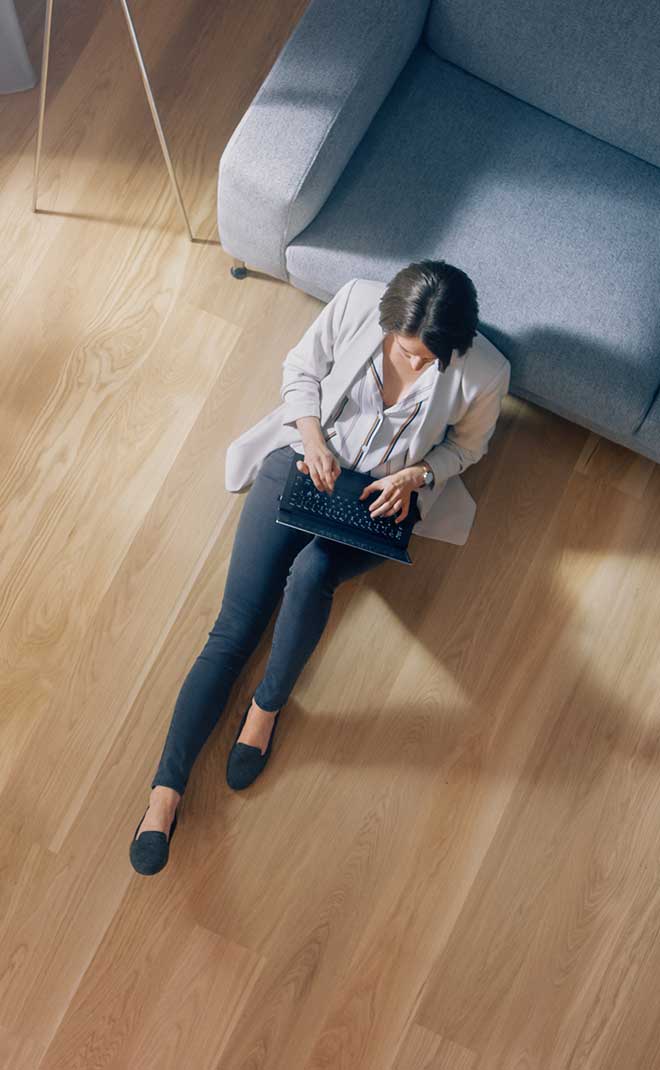 How Much Does


Vinyl or LVP Floor Installation Cost?

We at Footprints Floors are a family-founded company. We take great pride in providing high quality work at an affordable rate. We accomplish this by using only skilled installers capable of impeccable flooring installation. In addition, our business model of providing the labor for floor installation and leaving out the showroom maintenance, (we do not sell LVP or vinyl flooring), allows us to cut costs and share that savings with our clients.

Even though we do not sell our own flooring, should you want recommendations for flooring retailers, we can provide you the contact information for those we trust. Furthermore, because of this business model, your flooring selection will not be limited by a finite inventory. You may have your pick from any vendor allowing your design possibilities to be limitless.
The Footprints Floors


Difference

When you schedule an appointment with Footprints Floors for LVP or traditional vinyl flooring installation, we will perform the demolition of your current floor, an assessment of subflooring, lay a new underlayment (if necessary), install the new vinyl flooring and clean up the entire work site. When we leave your home, you will have a beautiful new space to enjoy and admire.
Schedule
Your Vinyl Floor Installation Today
---
At Footprints Floors we help keep costs low! With no showrooms to maintain or products to sell, we can focus on you and provide the best craftsmanship for every home. Our master craftsmen expertly install vinyl floors while paying attention to every detail for a stunning look that lasts. Our prices and flooring services are unmatched. So search no further for vinyl floor installation in Carmel and let our team take it from here!