---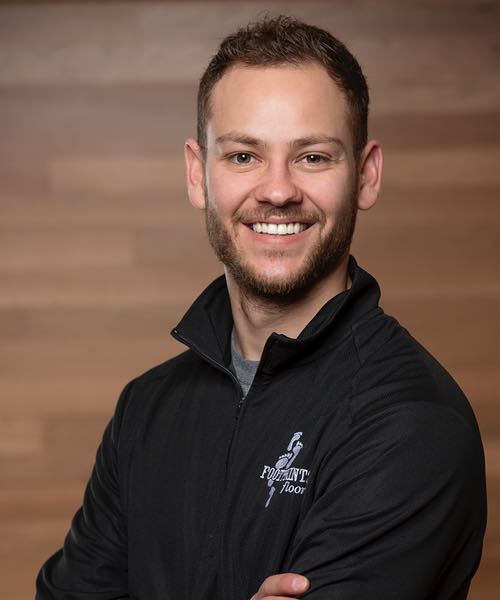 Hayden Sutton
Owner - Minneapolis
Hayden was born in Littleton Colorado, but spent a significant portion of his childhood overseas in Papua New Guinea, where he learned the important values of honesty and hard work. After high school he attended Bethel University in St. Paul Minnesota, where he began to fall in love with the wintery state. He then returned to Colorado and began working for Footprints Floors as a project manager. It was during that time he met Anna; a Minnesota native.
After far too many months of long distance, Hayden moved back to Minneapolis to be closer to his now Fiancee, Anna and to start his own Footprints Franchise. He brought with him the experience and knowledge he obtained during his time as a project manager in Denver. Hayden prides himself on excellent customer service and superior results from years of experience in the field. Hayden and Anna tie the knot in September and when not working or wedding planning, they love to go on long walks around the many beautiful lakes of Minnesota.
Heather Cormier
Customer Service Manager
Great Floors & Great Impressions are what we are all about!
Our Corporate Team
---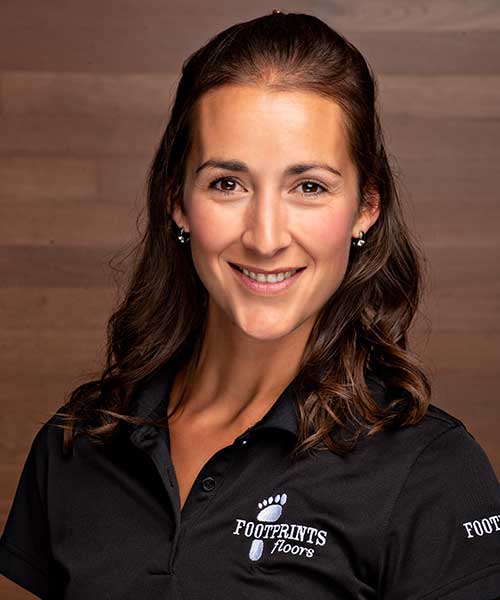 Rachel Simpson
Director of Operations
Rachel spent her younger years moving around the country with her parents and brother. She decided to plant her roots in Denver in 2000, and later attended Colorado State University in Fort Collins, CO. Following graduation, she worked for a worldwide hotel organization for over 8 years. After gaining exceptional knowledge and experience in sales and operations, Rachel was offered the opportunity to join the team at Footprints Floors. Her husband and three children have supported her growth with Footprints Floors for over 6 years and they look forward to being apart of this team for life.
Rachel believes in doing her best every day, and staying committed to the end. Her desire for growth matches that of Footprints Floors and knows that growth cannot happen without support, teamwork and organization. Footprints Floors is ready to set the standard and she is proud to be there with the Footprints family.
---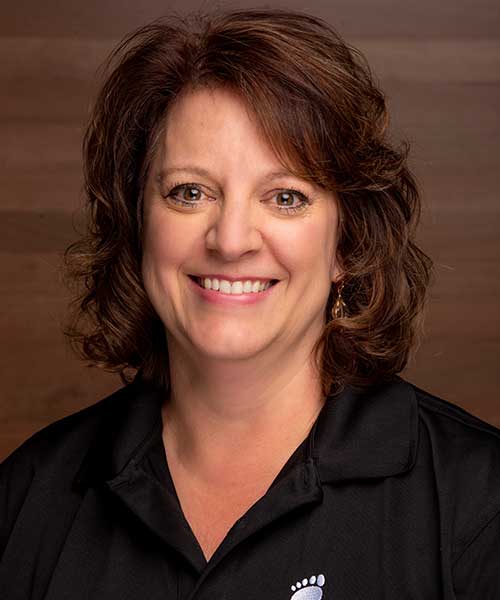 Debbie Melkonian
Director of Managed Services
Debbie is a Colorado native; graduated from Colorado State University then settled back in to the Denver metro area after graduation. She and her husband John raised three children, two daughters and a son, enjoying all that Colorado had to offer a young family. She worked in the school system and at a friends bakery while her children were young, and the schedules were filled with games, concerts and productions. They are recent empty nesters, all of their children married. They spend their down time enjoying their growing family, serving in their church, and connecting with friends.
Debbie joined the Footprints Floors team in January of 2013 as a receptionist, and has grown in the job as the company has continued to grow. She loves leading the growing receptionist team. This team works together to support both customers and owners, providing scheduling, communication and organization. She looks forward to the opportunity to continue to grow as Footprints Floors grows.
Customer Satisfaction
Footprints Floors is a one-of-a-kind residential flooring installation and restoration business. We offer high quality flooring installations and, with over a decade of dedication, we have quickly become the largest flooring contractor by striving to bring a higher level of customer service and sophistication to an industry where it was severely lacking. Our family-owned business is focused on customer satisfaction and quality results, all while passing savings on to you and yours through our low overhead model.
Showing 4 of 80 reviews (Average rating of total: 4.24 stars!)