Call To Schedule
or submit your information below
Submit your basic information below, and we will contact you to schedule your free in-home estimate!

Call To Schedule
FREE In-Home Estimate
Premier Hardwood Floor Installation
From Top Industry Professionals in Wilmington / Southport
---
Beautiful and long lasting, hardwood floors are a timeless choice for any room in your home. From your entryway to your kitchen, stairs, or bedroom, Footprints Floors will be there to help you every step of the way. Our hardwood flooring installers in Wilmington / Southport take care of installation and stain selection. Having your floors installed by a hardwood/solid wood craftsman means that your floors will look amazing and leave a lasting impression.
Hardwood flooring installation is always a smart move as it never goes out of style and will increase the overall value of your home. Hardwood flooring is durable, long-lasting, and (if needed in future decades) can be fully restored to its original splendor. Improvements in technology over the years have increased the durability and quality of hardwoods so that they will last for generations to come.
Benefits of Hardwood Floors
Increases Property Value
---
Flooring is a key design element in every home. Durable, clean, and beautiful, wood is a preferred flooring choice for homeowners. Whether you are a new homeowner looking to update old flooring or preparing your current home for sale, installing hardwood flooring increases your property's value.
Hardwood is one of the most popular flooring materials. According to the National Wood Flooring Association, realtors find homes with hardwood floors sell faster at higher price points. The timeless beauty and durability of hardwood are attractive to buyers, making hardwood a great choice for presale renovations.
Clean
---
Hardwood floors are one of the most sanitary flooring choices. Carpet, in comparison, traps in dust, dirt, and bacteria, and requires professional cleaning. While tile and laminate don't have dust-trapping fibers, bacteria can still become trapped in the grout or embossing.
Families with children or pets will benefit from wood floors. Allergy sufferers will also appreciate the cleaner air quality that this material provides.
Beautiful
Variety of Patterns
---
While every material has its draw, hardwood, in particular, is timeless. The intricate grains, rich colors, and unique textures of wood create endless design possibilities. As a versatile material, wood flooring does well with classic, modern, and eclectic home decor. Designers say that hardwood makes rooms appear larger, warmer, and inviting. What more could you ask of a flooring material?
Diagonal
Typically, hardwood flooring is installed parallel to the longest wall. Diagonal installation is an alternative pattern that is a great choice for smaller rooms. The diagonal boards draw the eyes towards the corners and away from the walls, elongating the room.
Picture Frame
A great statement piece, picture frame designs in wood flooring are perfect for elegant dining rooms. Picture frame designs are made with contrasting color wood planks, placed in geometric shape (usually rectangle) around the desired room feature.
Parquet
Parquet patterns are geometric shapes made out of smaller pieces of wood that all fit together smoothly. This historical design was popular in homes built in the early 1900s. This intricate, sophisticated design is making a big comeback!
Random Widths
Wood planks of varying widths and lengths placed randomly add depth and length to a room, making it a great casual option for smaller spaces.
Durable
---
Compared to other flooring materials, hardwood is durable. Tile can crack, carpet stains, and laminate scratches easily. Hardwood, on the other hand, can withstand pets, children, and more for decades. While scratching can occur, hardwood floor refinishing can restore old floors to brand new.
The biggest benefit of hardwood floor installation is longevity. This is a flooring material that will last a century or more if properly maintained.
Low Maintenance
---
Though hardwood is durable, it is not impervious to damage. Faded finishes, scratches, and dents are all signs of a well-loved hardwood floor. With proper maintenance, these imperfections rarely show until decades after installation. And, when they do appear, restoration and repair will breathe new life into your floors.
A daily sweep and frequent mopping with a special hardwood cleaner are all that are needed to maintain your hardwood floors.
Hardwood Floor

Installation Process
---
When you hire professionals for hardwood floor installation in Wilmington / Southport, it is important to understand their entire process. While some companies refuse to do prep work and cleanup, Footprints Floors provides full service. After discussing square footage, pricing estimates, and other details with your flooring professional, our team follows these installation steps.
Acclimation
Before wood planks are installed, they must acclimate to the moisture levels present in your home. Skipping this step causes expansion or shrinkage and other damage to newly installed floors. The acclimation process is simple: store your purchased wood planks inside your home for up to three days.
Tear Out And Subfloor Prep
Our team starts with the tear-out of your old floor, installs new subflooring, and prepares for installation. We practice heightened safety measures, ensuring no dust or harmful substances escape into your home's atmosphere.
Installation
Our team of expert craftsmen provides special care and performs the installation diligently and efficiently, laying down your hardwood flooring plank by plank. Next, your new floor is buffed, stained, and sealed to your desired finish.
Clean Up
After the installation process is complete, the crew will clean up after themselves, leaving your home just as it was when they got there. You can expect our flooring contractors to treat you and your home with respect. For expert flooring services and quality customer care, you can count on Footprints Floors of Coastal Carolina.
Beauty in

Imperfection
---
Most hardwood floors receive protective finishes to avoid the effects of wear and tear. However, you may finish your hardwood installation in Wilmington / Southport and wonder if it's necessary to cover your stunning new natural wood with finishing products. The good news is, it's entirely up to you!
The imperfections in raw wood floors are often what makes them so unique and eye-catching. Wood stains and sealants can smooth out glaring blemishes, but applying a finishing product is not necessary. Unfinished hardwood flooring is highly durable and requires only slightly different maintenance from a finished floor to avoid unnecessary water damage. Without a sealant, your hardwood will experience the beauty of age and daily use. Scratches and dents can be so much more than flaws! Unfinished wood showcases your family's history and brings your space a new sense of character. As the world grows more obsessed with the idea of perfection, unfinished hardwood is a lovely way to embrace and enhance the personality of your space. If you see and value the beauty in imperfection, allow your house to feel more like a home that has been loved and lived in with raw wood flooring.
If you want to add raw hardwood floors to your home and have been searching for hardwood installation in Wilmington / Southport, look no further! Footprints Floors has the hardwood expertise you need. Our hardwood flooring installers supervise every aspect of installation so you can be confident that your home is in expert hands. By the end of your installation, your raw hardwood floors will be the jewel of your home and will last the test of time. Give us a call today to receive a free estimate on your project!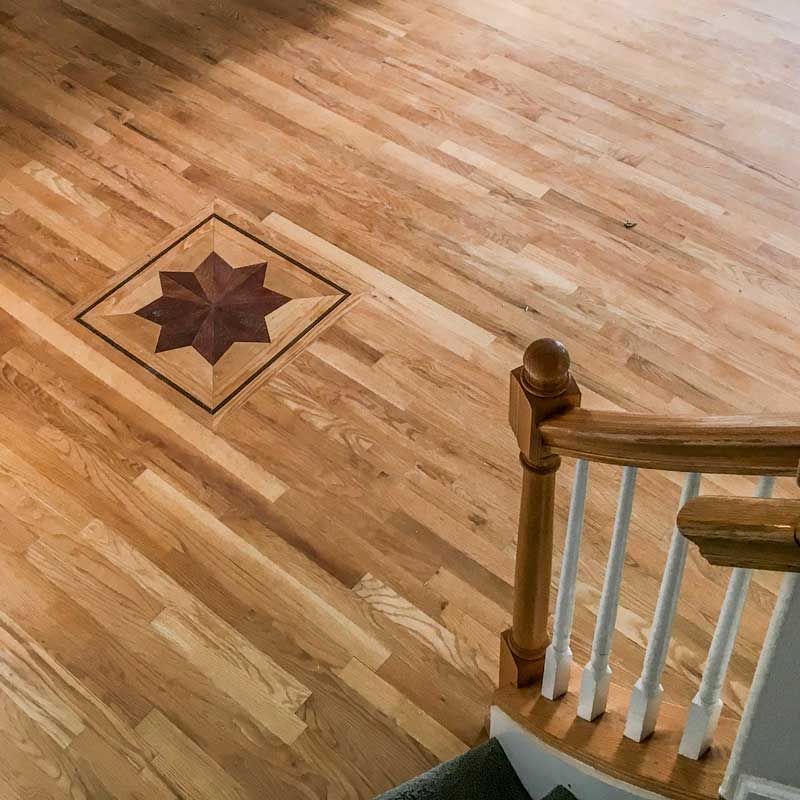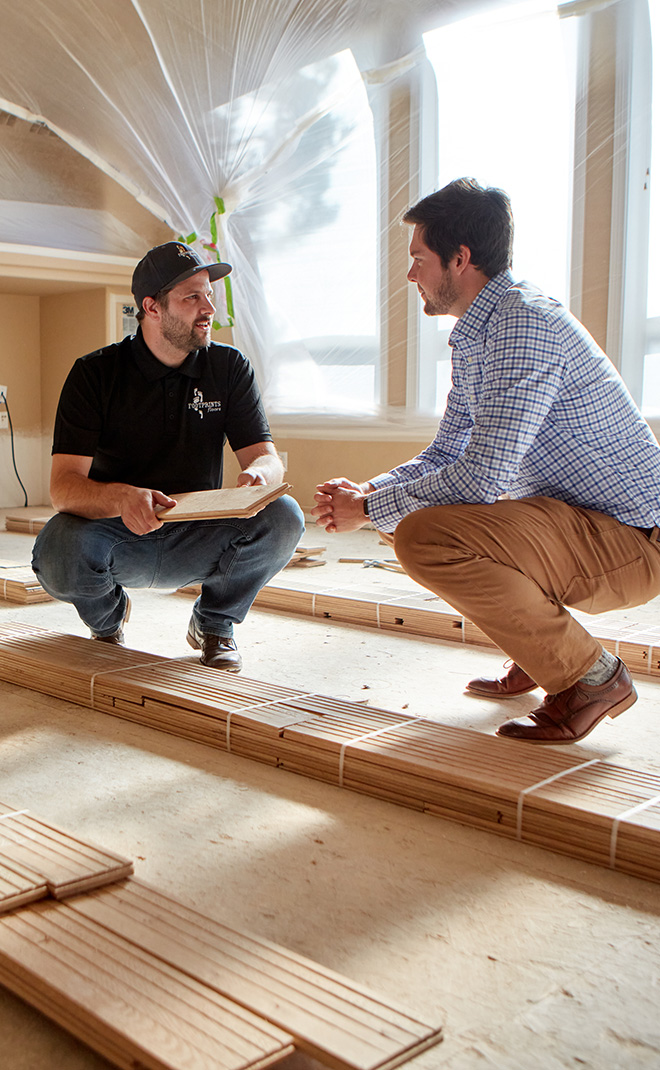 How Much Does


Hardwood Floor Installation Cost?

There is an initial higher price to pay for the many benefits of hardwood flooring, but the investment is well worth it over time Though more expensive than alternative, cheaper materials like vinyl and laminate, hardwood flooring is a valuable choice for homes. Factors that affect pricing include wood species, size of the project, and the company you hire to complete hardwood floor installation.

Footprints Floors of Coastal Carolina specializes in affordable pricing. We have partnered with various vendors to secure affordable flooring material options for our clients. While your choice of material is up to you, we will recommend a list of quality vendors. Once you make your choice, our professional floor installers will finish the job!
The Footprints Floors


Difference

Most flooring companies require that you also purchase from their inventory, which drives up installation prices and limits options. We leave the choice up to you, giving you more freedom and allowing us to offer our services at low prices!

For beautiful hardwood flooring, you can count on the professionalism and expertise of Footprints Floors. Our team also takes care of prep work and clean up, leaving you with the beautiful flooring you always dreamed of.
Schedule
Your Hardwood Floors Installation in Wilmington / Southport Today
---
Footprints Floors provides hardwood flooring installation services in Wilmington / Southport for both old and new homes. We handle the demolition and removal of the old flooring, as well as the necessary prep work for new flooring. We will even remove baseboards and reinstall them after completing the flooring installation.
Covering everything from design and installation to clean up, our team helps increase the value of your property with brand new hardwood floors. Contact us today to request a free estimate!
Customer Satisfaction
---
Footprints Floors is a one-of-a-kind residential flooring installation and restoration business. We offer high quality flooring installations and, with over a decade of dedication, we have quickly become the largest flooring contractor by striving to bring a higher level of customer service and sophistication to an industry where it was severely lacking. Our family-owned business is focused on customer satisfaction and quality results, all while passing savings on to you and yours through our low overhead model.
Footprints Floors is a one-of-a-kind residential flooring installation and restoration business. We offer high quality flooring installations and, with over a decade of dedication, we have quickly become the largest flooring contractor by striving to bring a higher level of customer service and sophistication to an industry where it was severely lacking. Our family-owned business is focused on customer satisfaction and quality results, all while passing savings on to you and yours through our low overhead model.