---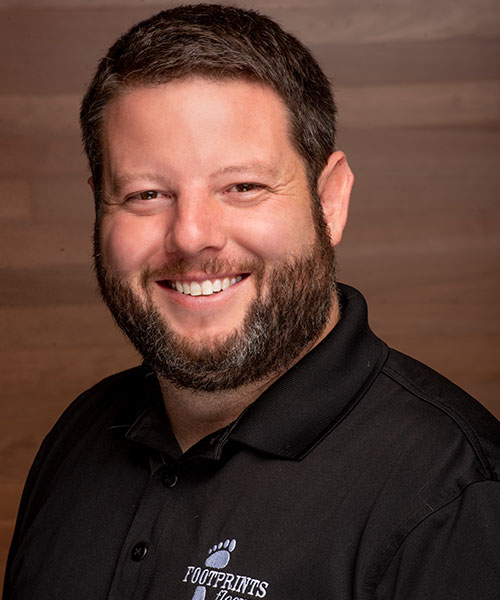 Bryan Park
Owner, Founder - Denver
Bryan grew up in south Denver. He attended the Air Force Academy in Colorado Springs, CO and served this country after graduation. Like most who serve, Bryan's military experience strengthened his belief in, and commitment to, integrity, duty and leadership.
When Bryan and wife Kelli settled in Littleton, Colorado they started a family...three rambunctious girls and two very big dogs. It was then, Bryan noticed that the flooring industry in Denver was highly inefficient and unscrupulous. It was nearly impossible to find providers who worked with a true sense of honesty and fairness. Changing this was not only an opportunity for Bryan, it was practically a calling.
"Putting the customer first and creating an impeccable reputation in this industry was Job #1," says Bryan, about his goals for his future flooring company in Denver. He named it Footprints Floors, and created a unique company structure that promoted the best in people, products and business practices. It worked! So much so, that Footprints Floors is one of the largest hardwood providers in Colorado and is growing rapidly.
---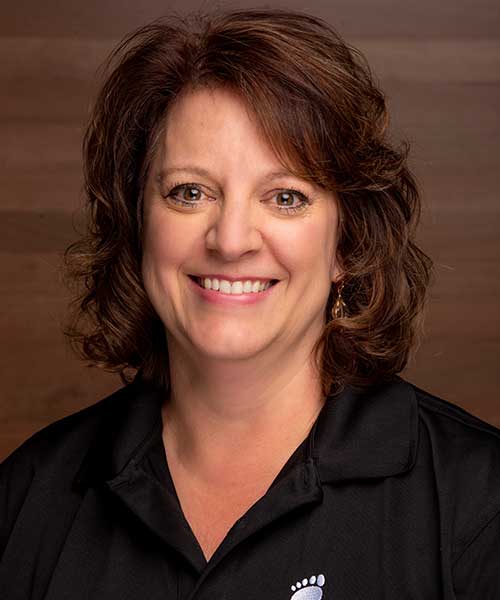 Debbie Melkonian
Director of Managed Services
Debbie is a Colorado native; graduated from Colorado State University then settled back in to the Denver metro area after graduation. She and her husband John raised three children, two daughters and a son, enjoying all that Colorado had to offer a young family. She worked in the school system and at a friends bakery while her children were young, and the schedules were filled with games, concerts and productions. They are recent empty nesters, all of their children married. They spend their down time enjoying their growing family, serving in their church, and connecting with friends.
Debbie joined the Footprints Floors team in January of 2013 as a receptionist, and has grown in the job as the company has continued to grow. She loves leading the growing receptionist team. This team works together to support both customers and owners, providing scheduling, communication and organization. She looks forward to the opportunity to continue to grow as Footprints Floors grows.
---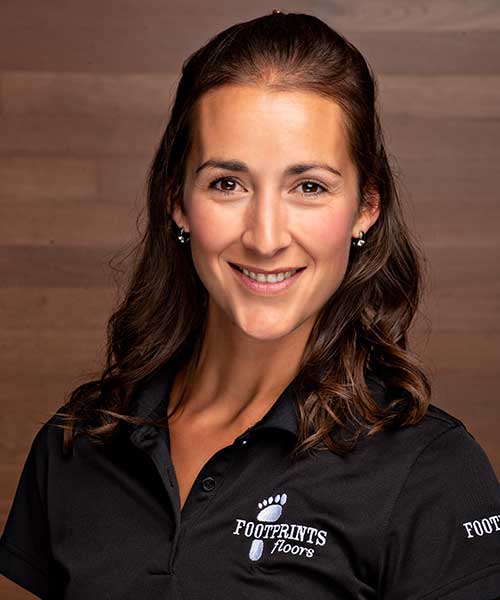 Rachel Simpson
Director of Operations
Rachel spent her younger years moving around the country with her parents and brother. She decided to plant her roots in Denver in 2000, and later attended Colorado State University in Fort Collins, CO. Following graduation, she worked for a worldwide hotel organization for over 8 years. After gaining exceptional knowledge and experience in sales and operations, Rachel was offered the opportunity to join the team at Footprints Floors. Her husband and three children have supported her growth with Footprints Floors for over 6 years and they look forward to being apart of this team for life.
Rachel believes in doing her best every day, and staying committed to the end. Her desire for growth matches that of Footprints Floors and knows that growth cannot happen without support, teamwork and organization. Footprints Floors is ready to set the standard and she is proud to be there with the Footprints family.
---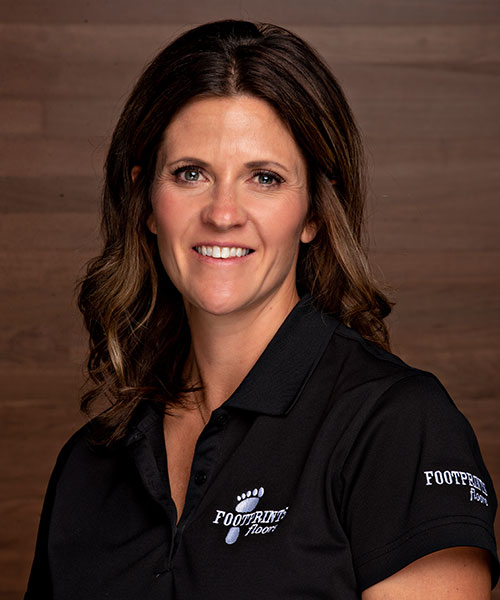 Kate Gudeman
Owner - Boulder / Broomfield
Joel and Kate own the Footprints Floors franchise from Boulder to Brighton and love living near the Northern Foothills. Joel served and wrestled in the Marine Corps and Kate has a background in education and a true passion for continual learning. With his discipline and her desire to connect with people, Joel and Kate make a great team! Together, they have been able to proficiently listen to customers and effectively execute their projects while guaranteeing customer service. Every customer matters to them, regardless of how big or small the project is. They are honored and excited to be a part of the Footprints Floors team. They look forward to many years of providing unmatched customer service and quality floors.
---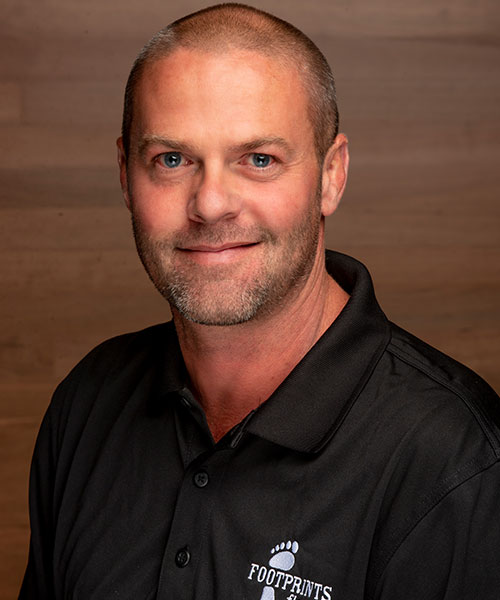 Joel Gudeman
Owner - Boulder / Broomfield
Joel and Kate own the Footprints Floors franchise from Boulder to Brighton and love living near the Northern Foothills. Joel served and wrestled in the Marine Corps and Kate has a background in education and a true passion for continual learning. With his discipline and her desire to connect with people, Joel and Kate make a great team! Together, they have been able to proficiently listen to customers and effectively execute their projects while guaranteeing customer service. Every customer matters to them, regardless of how big or small the project is. They are honored and excited to be a part of the Footprints Floors team. They look forward to many years of providing unmatched customer service and quality floors.
---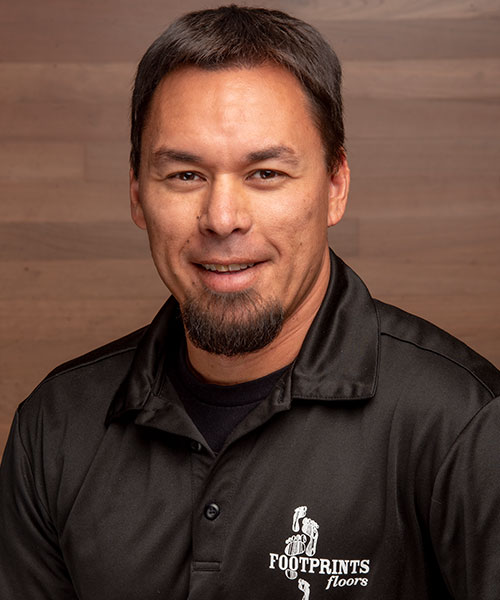 Mark Duskus
Owner - Colorado Springs
Mark has been in the flooring industry for many years. He brings solid experience and knowledge with him to every project. Having owned and managed his own flooring business in Colorado Springs for more than 12 years, he understands the importance of a job well done and the value of customer satisfaction. He also understands the great city of Colorado Springs as a knowledgeable local.
Mark and his loving wife Wendy are kept busy with their two active boys, Kylin and Korbin. His family is high energy and enjoys sports, the outdoors, and the occasional crazy challenges such as the 12 mile "Tough Mudder" obstacle course race. Mark is an avid hockey player, so when not on the ice or working, he is usually at a rink watching one of his boys in a game!
Mark grew up all over the world in the military, but has called Colorado home for 25 years now. After high school he attended Pikes Peak Community College, and then studied Business Management at the University of Phoenix. Mark built his flooring knowledge working on residential remodels, custom homes, and commercial properties over the past decade.
Mark is proud to be a member of the Footprints Floors team. He values how Footprints Floors does business ethically, fair, and with the goal of providing an excellent service to our valuable customers.
---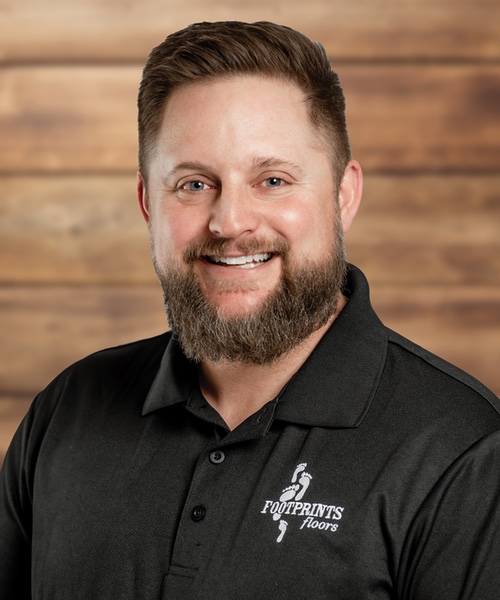 Aaron Benedict
Owner - Fort Collins
Aaron grew up in upstate New York, with his four siblings. He attended Houghton College in Western, NY where he studied business administration and also met his sweet and lovely wife, Dana. ​Following graduation, Aaron and Dana packed up their Jeep and headed west to Colorado to pursue business opportunities, and to embrace the incredible quality of life that Colorado so generously offers. Shortly after moving to Colorado, Aaron and Dana started their family. Their son, Brek, is 9 years old, and their daughter, Ella, is six years old. Aaron and Dana's third "child" is their handsome hound dog, Charlie, who is 5 years old. Dana works for Footprints Floors in the main office and also helps support Aaron in the day-to-day with operations. When Aaron is not working, he enjoys family time, attending his kids sporting events, downhill skiing, cycling, hiking and traveling.
Aaron met the owner of Footprints Floors, Bryan, at church. The two of them immediately hit it off. Aaron is excited to be a part of the Footprints Floors family and brings years of sales, business management and customer service experience to the valued customers he serves in Northern Colorado. Aaron has over a decade of corporate sales and marketing experience in both the medical and construction industries. He prides himself on excellent customer service, meticulous project management, integrity, transparency and superior workmanship with results. Aaron maintains excellent relationships with his installation technicians, works closely with them and values their partnership to provide the best floors for his customers.
Aaron is high energy and truly loves his job. He considers it an honor to be apart of the Footprints Floors family and he looks forward to delivering beautiful floors to the people of Northern CO for years to come.
---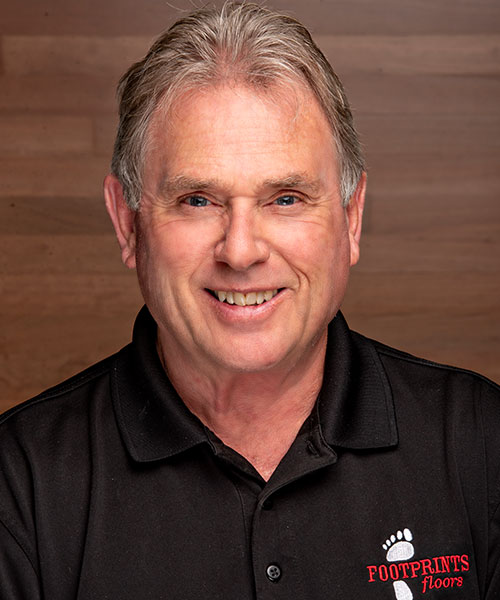 Dan Satchell
Owner - Castle Rock / Parker
Dan owns the Footprints Floors Parker and Castle Rock franchise. Living in Sedalia, with his wife Joyce, Dan enjoys and values the unique beauty of the Parker and Castle Rock landscapes. Dan and Joyce raised their two sons in Sedalia and can't imagine living anywhere else.
While gathering estimates for a hardwood flooring project in his home, Dan met Bryan. His broad and solid business background provided good conversation for the two entrepreneurs. Over the following months, Dan and Bryan agreed that Dan would be a great fit for the Footprints Floors team.
Dan brings an incredible wealth of knowledge to Footprints Floors. He and his son, Conner, are continually refining their father and son partnership to provide the best option for hardwood floors in the Parker and Castle Rock areas. Each customer represents an opportunity to Dan and Conner to provide quality service and a quality product at a fair price. Dan enjoys this daily challenge and is excited about the future of Footprints Floors in beautiful Parker and Castle Rock.
---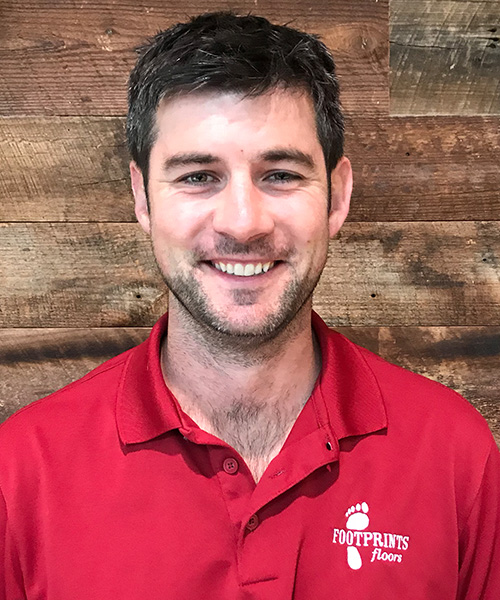 Brandon McBrier
Owner - Charlotte
Brandon is the proud owner of Footprints Floors operating in Charlotte, North Carolina. Originating from Pennsylvania, Brandon enjoys working with the beautiful old homes of the area, and the equally fine floors to be found there. Brandon became involved with Footprints following a visit from Bryan, his brother-in-law and founder of Footprints Floors. During Bryan's visit to the Lake Erie area, the two got to talking about the business opportunity and community service a company like Footprints could bring to the region. "I am both proud and happy to be working within the family business," says Brandon. "Each floor is as different as the people who own them and I enjoy working to create a unique beautiful finished product in every case."
Brandon joined the Footprints team after years of restaurant ownership. "From my time in the kitchen, I learned the value of customer service and a quality product. These two almost always create happy and successful relationships with customers. I believe the same is true for helping improve people's homes." Brandon prides himself on the calm and helpful relationships he strives for with each of his customers as well as his commitment to the finer details of home improvement.
With his free time, Brandon enjoys mountain biking in the Charlotte area or spending time on the family paddle boards on the lakes of the Carolina's. "No matter how your day is going, a few minutes spent by the lake make it better!"
---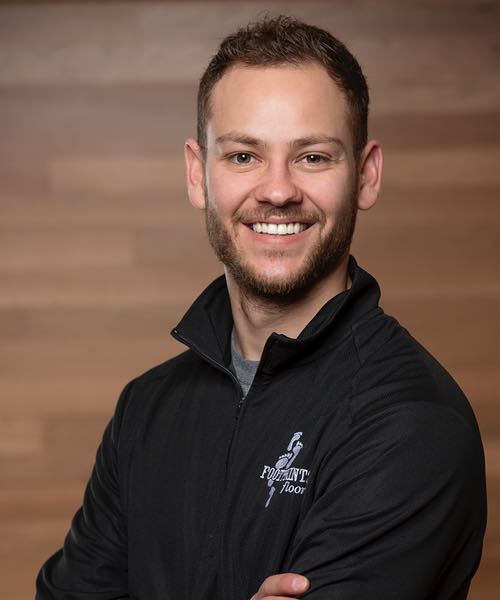 Hayden Sutton
Owner - Minneapolis
Hayden was born in Littleton Colorado, but spent a significant portion of his childhood overseas in Papua New Guinea, where he learned the important values of honesty and hard work. After high school he attended Bethel University in St. Paul Minnesota, where he began to fall in love with the wintery state. He then returned to Colorado and began working for Footprints Floors as a project manager. It was during that time he met Anna; a Minnesota native.
After far too many months of long distance, Hayden moved back to Minneapolis to be closer to his now Fiancee, Anna and to start his own Footprints Franchise. He brought with him the experience and knowledge he obtained during his time as a project manager in Denver. Hayden prides himself on excellent customer service and superior results from years of experience in the field. Hayden and Anna tie the knot in September and when not working or wedding planning, they love to go on long walks around the many beautiful lakes of Minnesota.
---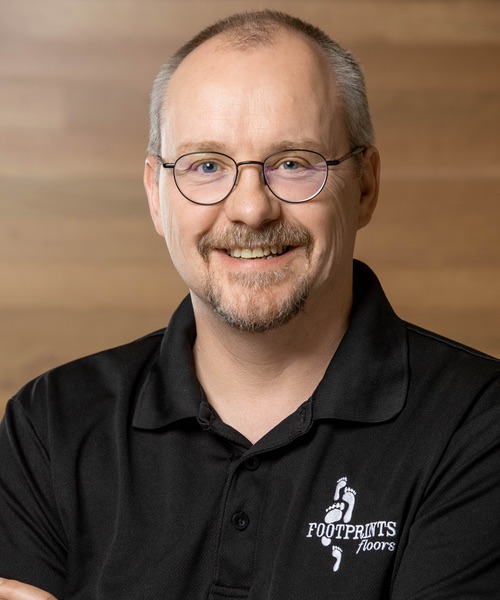 Alan Boden
Owner - McKinney
Alan is the proud owner of Footprints Floors in North Dallas, servicing the areas of Allen, Frisco, Plano, McKinney and the surrounding area. Born and raised in England, Alan moved from his London home to Ohio in 2007 before relocating to Dallas with his wife, and 3 kids in 2013.
Alan joined the Footprints Floors team after 25 years working in financial services, where he was responsible for many critical customer facing services. This taught him the value of focusing on attention to detail, and responding quickly and thoughtfully when assisting customers.
In his dealing with construction contractors in Dallas, Alan saw a gap and a tremendous opportunity to bring his strong customer focus mentality, and project management skills to the local flooring installation industry.
Alan and his family are active at the local and district level of Scouting (BSA) community, where all 3 kids are cub and boy scouts actively working toward Eagle rank. The whole family enjoys nothing better than tent or trailer camping with their 2 big dogs.
---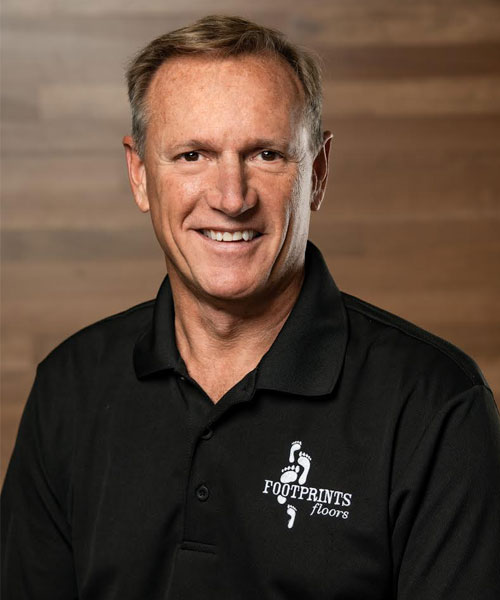 Steve Smith
Owner - Mesa
Steve owns the Footprints Floors Mesa franchise. Though originally from Minnesota, after 8 years in the Military (both Army and Air Force), Steve has made the Valley his home for over 30 years, enjoying a great deal of time outdoors, enjoying time at the Grand Canyon, local lakes and frequent hikes on local trails.
Steve is excited to be a part of the Footprints Floors family and brings years of customer service, business management, teaching and sales experience to every customer.
His focus has always been on providing the best customer service possible, and understanding that every customer has their own specific needs, priorities and questions. Helping customers feel excited and comfortable with this significant decision is a priority. Steve's exceptional organizational skills, both in the office and in the field has allowed a smooth transaction from first-contact, through to the conclusion, and well into the future.
---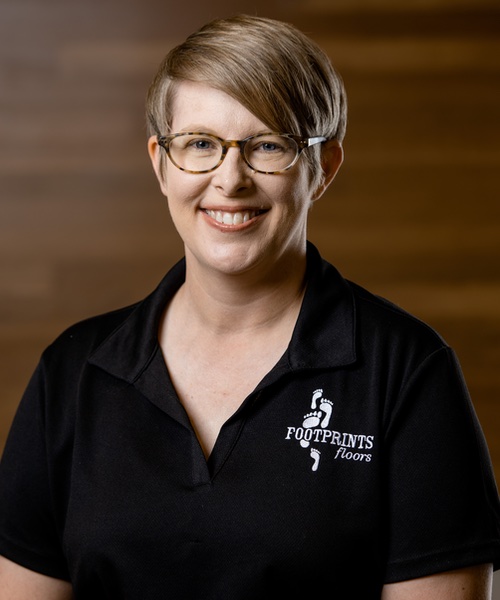 Shawna Eikenberry
Owner - Raleigh
Shawna is the proud owner of Footprints Floors operating in Raleigh, North Carolina. Shawna joined Footprints after gaining more than 20 years of experience in community building through a career in local government service. In various roles during that time, she developed expertise in analyzing and managing operational performance improvement, staff development and strategic planning. She joined the Footprints Floors family in 2019 shortly after relocating to Raleigh, NC with her family.
Shawna grew up in the Kansas City area, and still roots hard for her Chiefs and Royals. In her free time, she enjoys exploring the many beautiful parks and hiking opportunities in and around the greater Raleigh area. She also enjoys attending NC Courage games with her family whenever she can.
---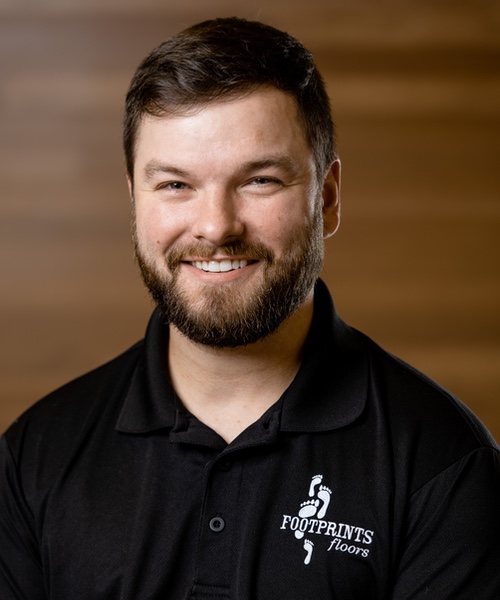 Kyle Battles
Owner - Chicago
Kyle is the owner of Footprints Floors' Chicago based franchise. Kyle grew up in St. Paul, Minnesota, but made his way to Chicago to attend DePaul University and has been there ever since. He now lives in the Roscoe Village neighborhood with his beautiful wife, Nikki.
After college Kyle started a medical billing and consulting business and has recently sold his portion of the business in hopes of finding something new and exciting to excel in! He is now using his customer service skills and business acumen in approaching the world of flooring.
Kyle is proud to be the first Footprints Floors in Chicago and hopes to continue to build his book of business while providing quality floors to the Northside of Chicago.
---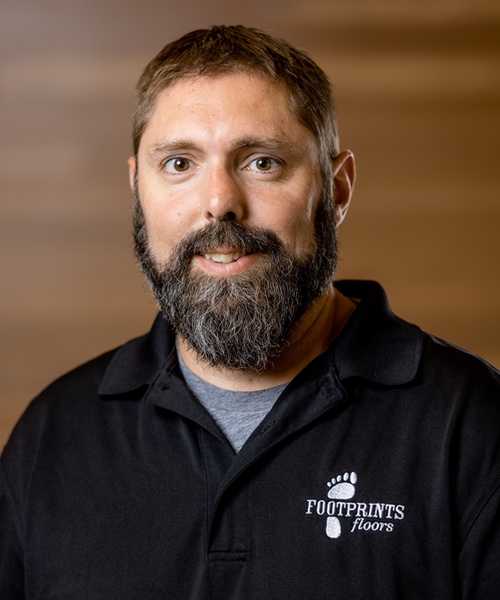 Michael H Titus
Owner - South Bend
Mike is the owner of Footprints Floors area including portions of the counties of Lake, Porter, LaPorte, St Joe, Elkhart, and Kosciusko in Indiana and Berrien, Cass, St. Joseph, and Kalamazoo counties in Michigan. Mike is excited to provide a service to residents of these areas for whom quality work in a timely manner has been difficult to locate or non-existent. Mike's resume is multi-faceted allowing him the opportunity to develop his professional communication skills as well as honing his customer service ideals. Mike is a veteran having served in the Army and attended Purdue University. After serving in the military, he provided security in the New Orleans area following Hurricane Katrina, which led to his position with the U.S. Department of State. After working overseas escorting dignitaries and U.S. personnel, Mike returned home to Elkhart County where he opened and operated his business in Elkhart. Most recently, Mike was responsible for maintaining inventory control and overseeing manufacturing operations for a local manufacturer.
Mike Is excited to bring the excellent company structure of Footprints Floors to his area and provide the much needed service. Through his attention to detail, integrity, efficiency, and focus on excellent customer service, Mike looks forward to serving his community's needs in the flooring industry.
---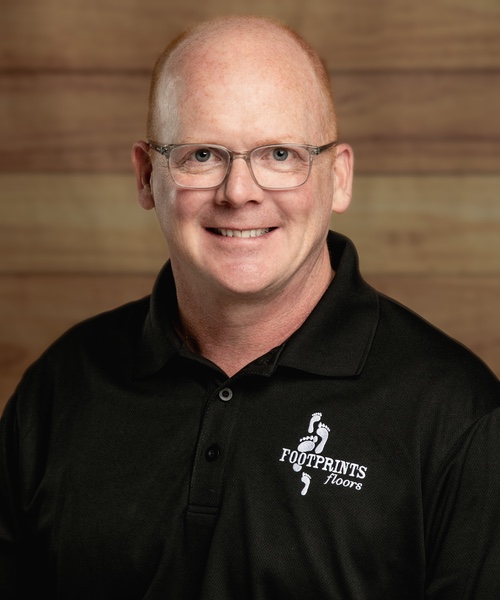 Noel Brewick
Owner - Sandy Springs
Noel is the proud owner of the Footprints Floors Atlanta franchise. Born and raised in Mitchell, South Dakota (home of the world's only Corn Palace!). He and his wife Laura have resided in Sandy Springs since 2013. Since than they have been blessed with two beautiful daughters, ages five and three.
Noel attended the University of South Dakota where he majored in business administration and was a captain on the swim team. After school he moved to Denver and worked for Sherwin-Williams Paint Company for five years before transitioning into the bedding industry. For 22 years prior to Footprints Floors, Noel was employed by Serta Simmons Bedding Company in six different cities across the country. He served in a wide range of positions in both sales and finance from account manager, to Director of National Accounts, and VP of sales. Noel is now excited to be part of the Footprints Floors family and bring his many previous years of business and customer service experience to the flooring business.
In his free time Noel enjoys spending time with his family, keeping up with the many kids activities, travel, golf, and swimming.
---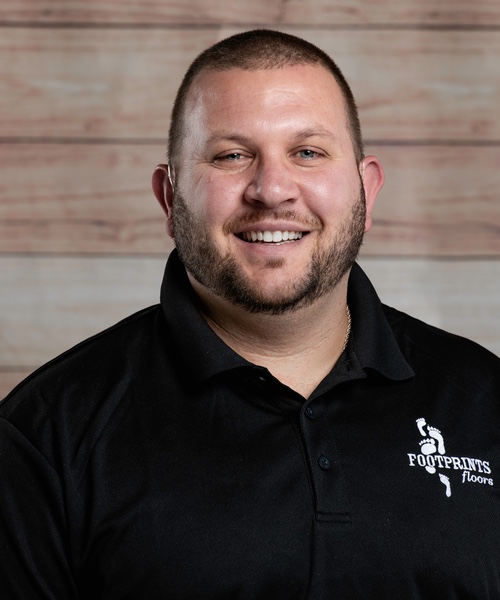 Rob Ricco
Owner - Durham
Robert is the proud owner of Footprints Floors servicing the cities of North Carolina - Durham, Greensboro, Winston-Salem, Charlotte, and all surrounding areas. Robert was born and raised in New York City where he met his lovely wife Sara. Robert and Sara have two amazing, energetic children, Amelia and Robert Jr.
At a young age, Robert learned the value of good work ethic working in his father's flooring business. At the age of 22, Robert began his 13+ year career with Con Edison. Robert started as a meter reader, worked his way up to the underground electric emergency operations department, and then became an operating supervisor for the overhead electric department. During this time, he led many hurricane restorations crews in Florida, New Jersey, Puerto Rico, South Carolina, and upstate New York. While working for Con Edison, Robert also studied project management at The University of Phoenix.
Robert and his wife Sara left NYC behind and settled in North Carolina seeking a better quality of life for their family. Robert enjoys spending his free time with his family and is looking forward to having a great work-life balance. Robert and Sara love exploring with their two kids and taking advantage of all that North Carolina has to offer. Robert is excited to bring his family values and leadership skills to the Footprints Floors family in North Carolina.
---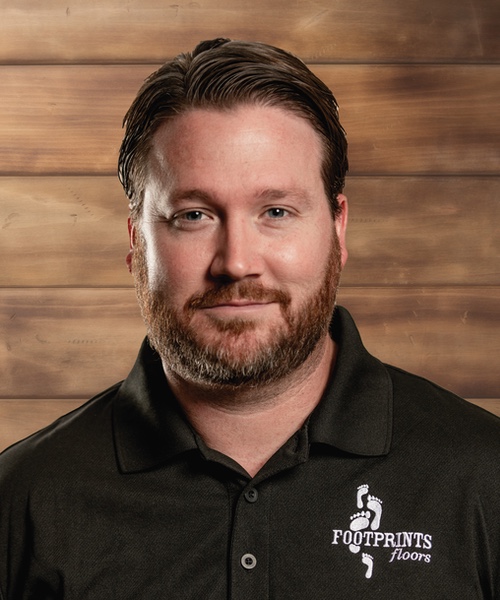 Michael Brown
Owner - Warner Robins / Macon
Michael Brown is the proud owner of Footprints Floors, based in Macon, GA, and serving all of Middle Georgia. Michael has spent almost two decades working in management and leadership, serving with Walmart Logistics, Tractor Supply Company, and Lineage Logistics, and brings with him 19 years of working with people, and managing projects of all sizes. Michael is married to his beautiful wife Shanna, and has three kids that mean the world to him, and shape the values that he brings to the flooring industry. Michael is a family man that places the utmost value on integrity, honesty, and treating people right no matter what. Nowhere will these qualities go further than in the construction industry, where Michael always aims to bring customers the best floor remodeling experience as possible. Michael treats every project, and every customer with respect and true professionalism, and is excited to help people in his community beautify their homes through great floors, leaving great and lasting impressions.
---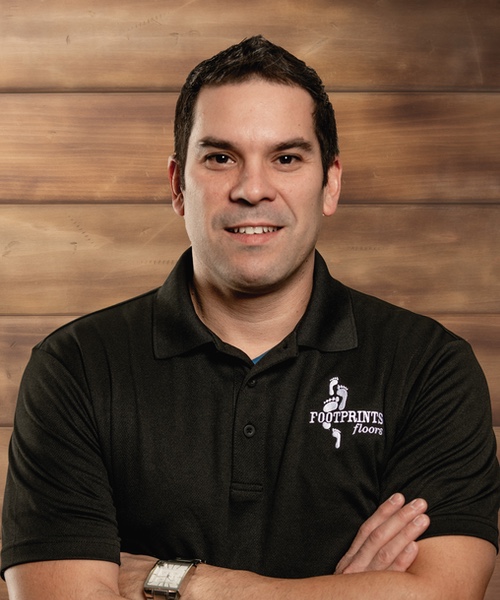 Fabio Simoes
Owner - South Lake
Fabio Simoes is the proud owner of Footprints Floors in the greater Dallas and Fort Worth area. He has years of experience in both real estate business as well as hands on experience in fix and flips. Through this unique blend of construction experience and understanding customers and their needs, Fabio takes great pride in offering the best flooring experience in town. Fabio places tremendous value on integrity, honesty, and communication when dealing in business and in his personal life. Married to his beautiful wife Tais, and raising his two children Valentia, and Isaac, Fabio is very active in his local church, enjoys playing soccer with a team, exercising and spending time with his family, both immediate, and back home in Brazil. Above all, Fabio understands that every customer has unique needs and expectations, and he makes it his goal to meet those needs as professionally as possible.
---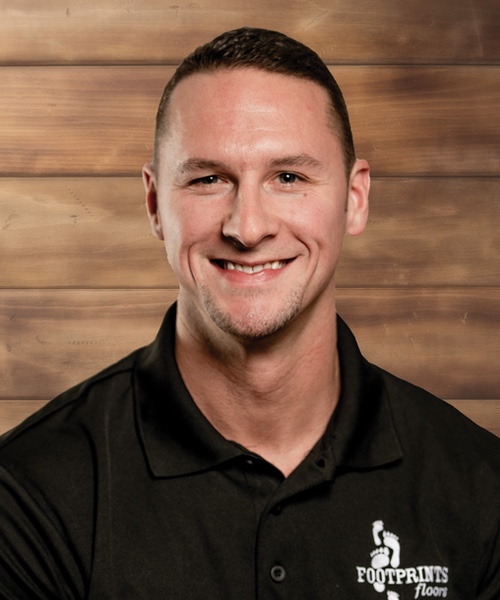 Kris Bohman
Owner - Cedar Park
Kris Bohman is the proud owner of Footprints Floors servicing the areas of Austin, Cedar Park, Leander, Highland Haven, Cottonwood Springs, Spicewood and Kingsland areas. Having lived most of his life in Anchorage, Alaska, Kris, his wife Katya and daughter Isabell sought a change for their family and are new to the Austin area. They are excited to bring their professionalism, family values, and experience to the flooring industry with Footprints Floors Austin.
Kris has extensive knowledge in both the construction and real estate industry and brings with him years of first hand experience in working with, and serving homeowners finding exactly what they are looking for, both in home purchases and in remodeling. Having had a successful real estate career, Kris decided to expand once more and to offer his excellent customer service skills, integrity, work ethic, and honest approach to the flooring industry.
Kris enjoys spending his free time with his family and is excited about the great quality of life that Austin offers to him and his family. Kris enjoys pursuing a healthy lifestyle through fitness training, sports and outdoor activities with his family.
---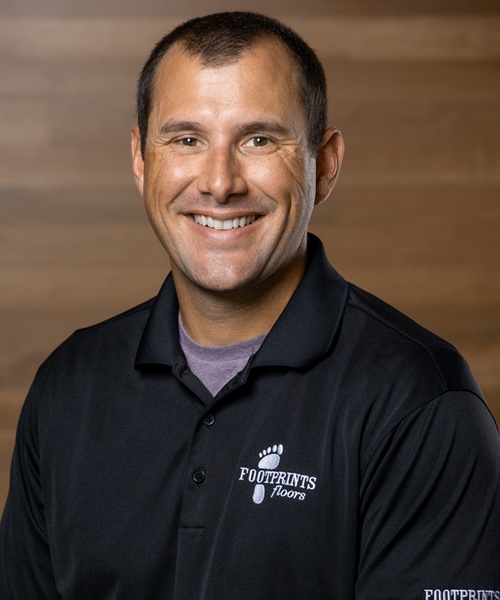 Brian Knuth
Franchise Development Manager / Owner - Carmel
Brian is the proud partner and owner of Footprints Floors Indianapolis, IN. Brian married his high school sweetheart Torrie, and they are busy raising their twin boys Hayden and Greyson.
Early in his career Brian worked with customers, primarily residential, offering tree removal and pruning services. In his free time (clearly before kids) he utilized his skills in helping homeowners with various home improvement projects; decks, landscape, light duty carpentry, and even resurfacing of hardwood floors.
Brian has established a reputation in the industry of Franchise Development, managing the recruitment of new franchise partners for growth oriented franchise organizations. Upon first interaction with Bryan Park and Footprints Floors he realized that he wanted to join forces with a winning service business. Offering a disruptive and professional approach to an oftentimes unprofessional service is the attraction that Brian has towards Footprints Floors.
Honesty, integrity, and accountability are characteristics that Footprints Floors of Indianapolis deliver to customers on a daily basis.
Showing 4 of 80 reviews (Average rating of total: 4.19 stars!)