Premier Staircase Flooring Installation
Flooring Installation For Stairs From Top Industry Professionals
---
If you've started or are considering a home renovation, you've probably thought about the big things; a kitchen remodel, maybe a bathroom update. But have you considered giving your home a facelift by getting your stairs redone?
The staircase is often one of a home's most prominent architectural features. Having an outdated or worn down staircase can take away from a home's updated features and even deter potential homebuyers. A staircase remodel can instantly lift the appearance and aesthetics of your home. A well-maintained staircase is also an important part of keeping your home safe, as worn steps or loose parts can become dangerous.
Footprints Floors is your one-stop shop for all your staircase remodeling needs. If you've been searching for flooring for stairs or looking to replace your current wood stairs, our staircase installers handle everything! From start to finish, we provide a seamless experience.
Great Floors & Great Impressions Are What We Are All About!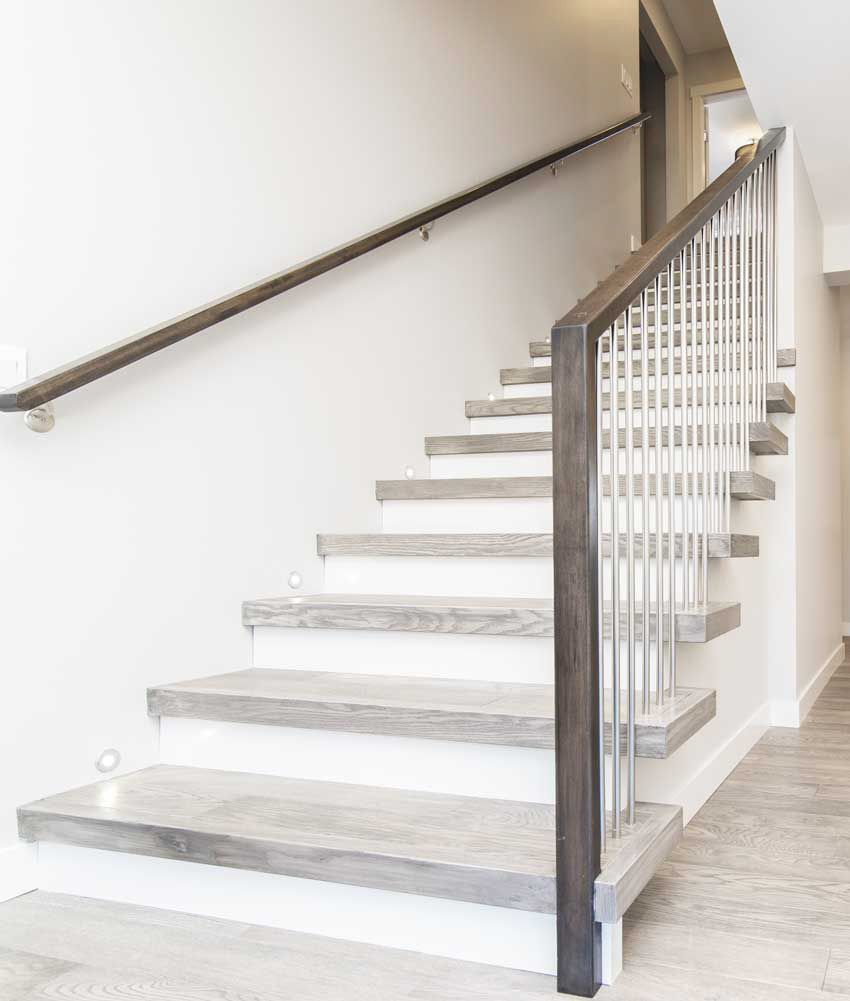 Why Remodel Your Stairs During


Renovation?

Stairs are a beautiful architectural piece in your home, but there are many other reasons it's a good idea to keep them updated. Whether it's a full-scale remodel to match a home's new look or just a new set of treads and risers, keeping your stairs in good shape is good practice as a homeowner.
Safety:

A staircase is one of the highest traffic areas in a home, and as they become worn down over time, they can quickly become a safety hazard. Old stairs can become loose as the foundation settles, and wood stairs that aren't maintained can become slippery. Loose holds or wobbly steps can also be dangerous. Well-kept stairs are less likely to lead to a fall, slip or other accident.

Home Value:

In addition to making a home safe, an updated staircase is an important contributor to a home's value. Scuffed or worn risers, broken spindles or steps that need to be refinished can lower home value.

Appeal:

Along with increased home value, a beautiful staircase also has increased buyer appeal. If the staircase doesn't match the rest of the home, it can be a drawback.
When Should I Replace My Stairs?
Even if you're not looking to do a complete home renovation, keeping your stairs safe and updated is a crucial part of home maintenance. Keep an eye out for the following signs that it's probably time to look into some new flooring for stairs.
Cracks in Treads and/or Risers
---
Visible cracks in treads or risers is a sure sign it's time for a replacement. Cracks can appear for many reasons, usually humidity, but no matter the cause it's a safety hazard for you, your family and any guests.
Loose or Detached Handrails/Posts
---
Wobbly handrails can't serve their intended purpose: Safety and support. Not only that, but loose or detached handrails can be a code violation and get you into serious trouble if not fixed.
Creaky Steps
---
You've probably experienced creaky steps in older homes, but they don't have to be a permanent feature. These can usually be an easy fix that leaves you with stairs that are as good as new
Water Damage
---
Any water damage can cause serious damage and compromise the integrity of your stairs. Warping or rotting along your stairs shouldn't be left to get any worse. Stairs with water damage typically need to be replaced, not just repaired, to stay safe.
Schedule
Your Staircase Floor Installation Today
---
At Footprints Floors, we know it isn't pleasant to live through any sort of remodel. This is especially true of flooring for flooring for stairs, which are one of the most used parts of a home. That's why we work hard to make your staircase remodel or renovation a smooth, efficient experience.
Our expert staircase and floor installers handle everything from prepwork to installation — all with as little disruption to your routine as possible. We pride ourselves on clean, trustworthy work.
Contact Footprints Floors today for your installation estimate!
Get a Free Estimate Today!