Luxury Flooring Services At Budget Prices
From Top Industry Professionals
---
Floors are one of the most important aspects of a home both functionally and aesthetically. With Footprints Floors, you can have both the form and function you're looking for within your desired budget. There are many types of flooring services that Footprints Floors provides in your area.
The type of flooring material you choose pulls together the entire interior of your home. At Footprints Floors, we stand by the motto: "Great Floors, Great Impressions." Our goal is to bring homeowners their dream home, one floorboard at a time. From affordable flooring installations to repairs, we are the affordable flooring installation contractors that you can count on.
Footprints Floors


A Step Above The Rest

Where other flooring contractors only offer minimal services, at Footprints Floors we are a step above the rest. You can count on us for top rated hardwood floor installation and repair. Our flooring service contractors are experienced at repair and will never sell you on a reinstallation unless absolutely necessary. We are also the most experienced in vinyl installation, laminate installation, and baseboard installation. In fact, we can expertly install any type of flooring material—the choice is up to you! Simply purchase your preferred material and give us a call so we can expertly install and seal it for you. When it comes to professional affordable flooring installation, there is no company more willing to make customers happy than Footprints Floors. Contact us today for a free estimate on your flooring project.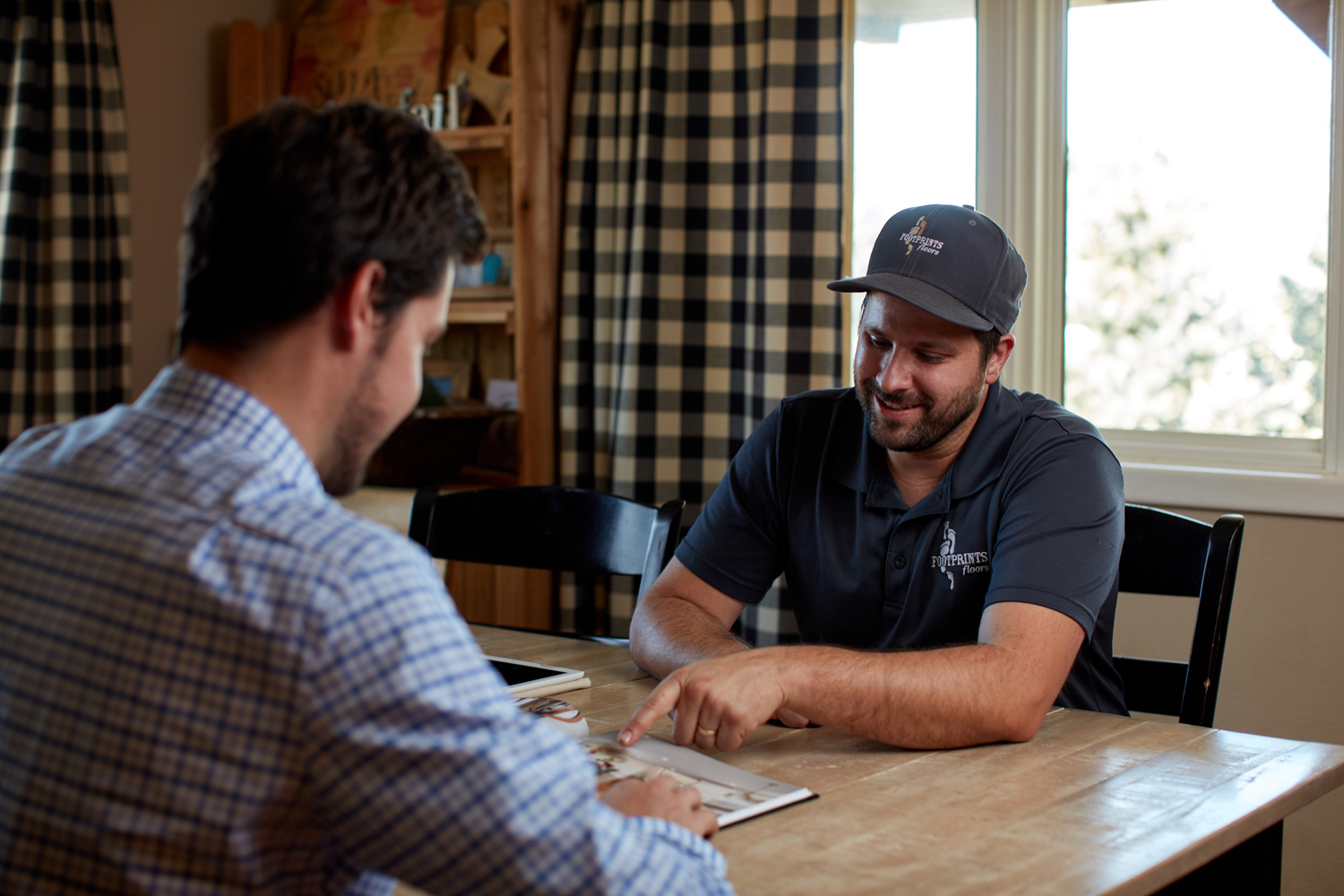 Hardwood
---
Hardwood is a classic flooring material that is durable, long-lasting, and fully restored to its original splendor.
Vinyl & Luxury Vinyl Plank (LVP)
---
Luxury vinyl features flawless images, realistic textures, and individual planks or tile pieces to look and feel like natural hardwood or stone.
Tile
---
With an endless choice of colors, shapes, textures and sizes, we can help get the look you want. From removing your old floors to the skilled installation of your new tile, Footprints Floors enables you to achieve floors that are not only beautiful but practical as well.
Stone
---
Stone flooring is a beautiful and durable option for homeowners. There is a growing trend to break with using stone only in bathrooms, kitchens and entryways.
Laminate
---
Laminate is an excellent option if you are a price-conscious shopper looking to update your floors. Make a huge impression with your floors without a huge budget.
Staircases
---
Staircases are usually located in central areas of the home and experience high traffic, and over time they can begin to show signs of wear and tear. A beautiful staircase is highly desirable, so much so that it can be the selling point when buying a home. If you want to sell your home or are looking to obtain that gorgeous staircase for yourself, Footprints Floors has you covered.
What Installation Is Like
---
At Footprints Floors, we believe that great floors make a great impression, and every home deserves beautiful, timeless flooring. From hardwood flooring to tile, stone, vinyl, and other options, our team of expert flooring installers has you covered. The first step to any lasting impression is getting started! So check out our process.
Footprints Floors makes getting new floors accessible. Because of our unique business model, the process of getting new flooring for your home is simplified and cuts to the point. Installation is made easy with our four-step process:
You Choose The Material
One of the main ways we keep costs low for you is by leaving flooring selection up to you. This allows us to eliminate overhead costs for materials, inventory, and showrooms, and we pass these savings directly on to our customers. You also benefit from more freedom in material choice.
We won't limit you like other floor installation companies that make you choose from their limited and expensive inventory. So, go ahead and select your favorite flooring material; that beautifully toned hardwood, or the classic tile you have been dreaming about, perfectly matches your interior design theme. We know you have great style.
Get A Free Estimate From Us
In-person, or virtually, our estimates are completely free. We will take measurements of the room(s) that will be floored and discuss further details of the project. Once we have added up costs, we will provide you with an estimation of the final price for our flooring installation service.
Purchase Materials
Once you are satisfied with our estimate, then you can go ahead and purchase your flooring material! Our talented team of professional flooring contractors will tell you exactly how much to order.
Installation
Our expert flooring installers will make your flooring vision come true. From prep work to clean up, we will handle the job with expert efficiency. Your team of installers will explain any critical care and cleaning instructions before they leave. We promise 100% satisfaction.
Great Floors & Great Impressions Are What We Are All About!
Schedule
Your Affordable Flooring Installation Today
---
Affording beautiful flooring for your home doesn't need to break the bank. Your dream home can become a reality with Footprints Floors affordable flooring services. We can offer full service for flooring projects, from tear-out to clean-up, while keeping our prices at an industry low.
Unlike competitors who need to account for their inventory and showroom costs, Footprints Floors has eliminated these aspects for your benefit. As a Footprints Floors customer, you benefit from more freedom in material selection and lower overall costs. We understand that flooring can make a lasting impression and add warmth and comfort to a home. Our goal is to provide homeowners with affordable flooring options so their dream home can become a reality.
While it is up to you to choose your preferred material, we can assist you in finding a trusted vendor. We are connected with quality artisans and material vendors, and we can help you find something that fits your style and budget. Once you've selected your preferred flooring, we can assist you with the design. Our local flooring contractors are experienced with every type of flooring, from stone to hardwood, so don't be afraid to get creative.
If you are searching for quality, affordable flooring services, Footprints Floors is a step above the rest. Contact us today for a free project estimate.
Get a Free Estimate Today!