Premier Backsplash Installation
From Top Industry Professionals
---
A backsplash in a kitchen or bathroom is a simple home renovation that can dramatically change the overall look of the room and add value to the home. This simple addition is an easy, cost effective solution to updating a kitchen or bathroom on a budget. Backsplashes are not only aesthetically pleasing but serve to protect walls from water damage, grease or food stains. The maintenance of a backsplash is simple and straightforward. The backsplash is more washable and durable than a simple wall with paint as the only protective surface. This means that any food that splashes onto the wall when cooking is easily wiped away. Anyone who has cleaned pasta sauce off of paint knows what a benefit this can be!
Backsplashes are commonly found in kitchens and bathrooms. Today we are seeing backsplash installation in laundry rooms as well. Backsplashes are excellent choices for these rooms for two main reasons. They provide protection from water damage and create a durable and easy to clean surface in areas that are prone to splashes. Furthermore, backsplashes are being used more and more to create an impactful design statement. Backsplashes can draw the eye and tie a room together. There is a beautiful statement backsplash just right for each home, and Footprints Floors are here to make sure the end result is perfect.
Backsplash Options
As you begin your search for the right selection for your backsplash, you will find an endless list of possibilities. Our craftsmen at Footprints Floors are prepared to help with the backsplash installation of your material of choice.
Glass Tile
---
Like marble, glass tiles can be a more affordable option to make a space feel larger and brighter by bouncing light throughout a room. Glass tiles have a very pleasing way of also accenting the colors beneath the glass, giving off an often captivating look and feel. Glass tiles are low maintenance, easy to clean and very durable.
Ceramic Tile
---
Ceramic tiles are by far our most popular request for backsplash and wall tile installations. Ceramic tiles are extremely durable, scratch resistant, low maintenance, and are super easy to keep clean. With some of the most diverse designs available, homeowners really can't go wrong with ceramic tiles as their wall accent of choice.
Stone
---
To create a warm and comforting look and feel, homeowners might choose to accent their spaces with stone wall tiles for backsplashes. Stone is incredibly durable, heat resistant and conveys a truly timeless impression.
Mirror Tile
---
While this wall accent is more rare, mirror tiles are a great choice for someone wanting to visually expand their space. Mirrors create a natural optical illusion that the space is much larger than it actually is. This comes in handy for rooms with low ceilings and in spaces that are more narrow.
Marble
---
For a more elegant touch, homeowners might consider installing marble for their wall accents. Marble has a natural polished glimmer that reflects light; making rooms seem more spacious. Yet for such an upscale material, marble is also durable and easy to care for.
Shiplap
---
This chic and modern wall accent serves as an alternative to a more traditional backsplash or wall tile. Shiplap is typically an inexpensive wall covering solution that is sure to bring a lot of texture and depth to any space.
How Much Does

Backsplash Installation Cost?
---
A tile backsplash can dramatically transform the atmosphere of your kitchen or bathroom. Not only does it protect your walls from everyday splatters and spills, but it's also an easy way to create a unique design for your kitchen or bathroom that fits your style. If you are considering investing in a tile backsplash, you may wonder how much you'll need to budget to complete the space of your dreams.
Backsplash installation costs vary based on multiple factors. First, the price of the tile itself will vary based on the size and material of the tile. The type of tile you choose will factor into the installation cost, which will also include the size of the space and the complexity of the design you choose. Your final cost will add on the price of any necessary additional materials, such as mortar and grout, and factors such as labor and hazard potentials. Footprints Floors is an affordable option for installation because we don't require you to purchase your tile from a limited selection. We offer expert results at a reasonable price, saving you money, time, and stress while delivering high–quality and long–lasting results. Contact us today to get a free estimate on your project!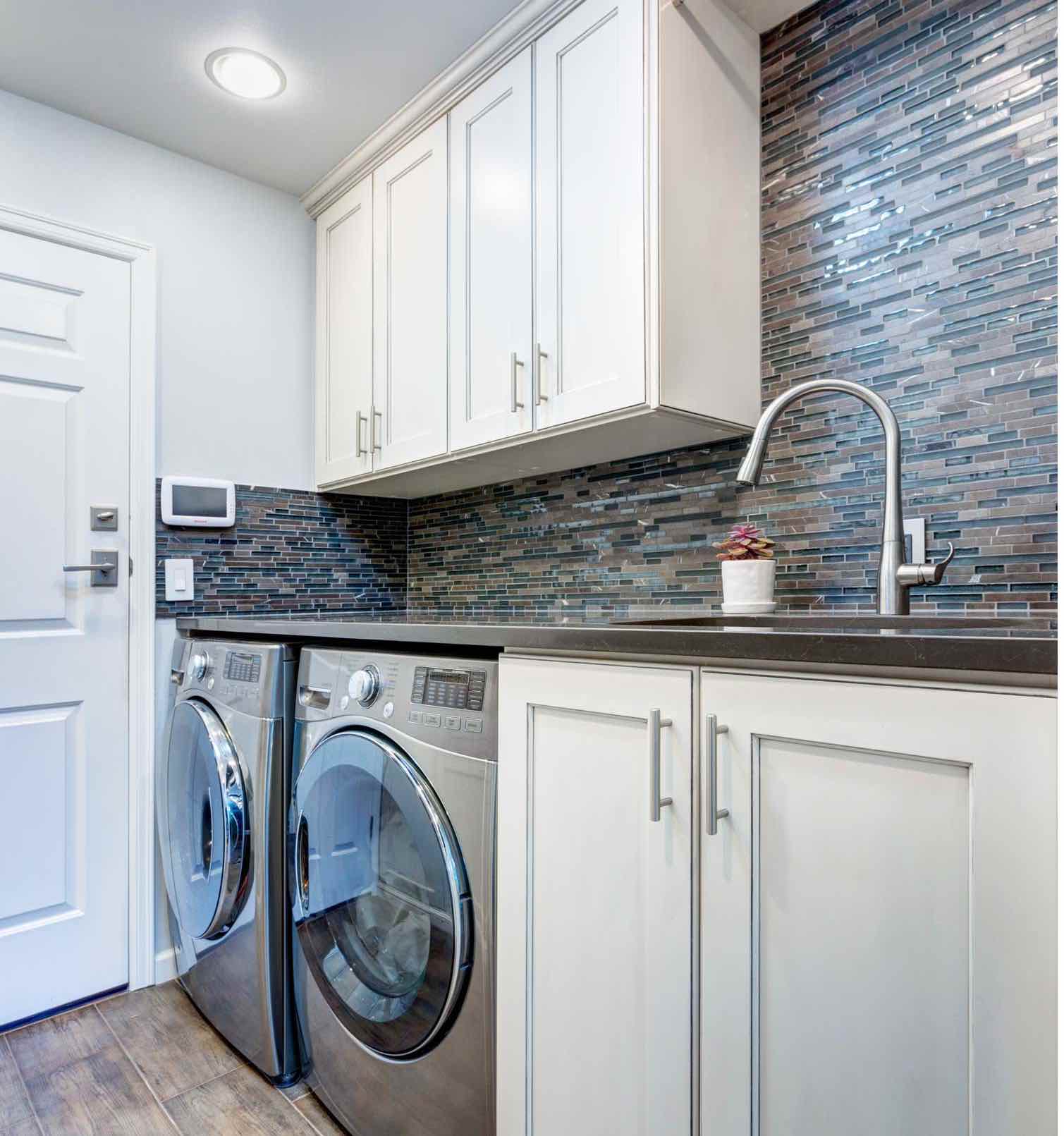 Can I Install Backsplash Myself?
Tile backsplashes are a popular home remodel for homeowners looking to update their space. It's an easy way to add value to your home while refreshing the style and function of any kitchen bathroom. But don't be fooled into thinking backsplash installation is an easy project done on your own. While a DIY installation with peel–and–stick backsplash tiles may seem like an affordable and easy option at first, it won't be as durable or long–lasting as a tile backsplash installed by a professional. To ensure that your results are high–quality and long–lasting, it's best to leave the project to someone with experience installing a backsplash.
If you are interested in updating your kitchen or bathroom with a backsplash, hire a professional to take on the job. A professional has the training, knowledge, and tools to navigate installation projects of all shapes and sizes. Though DIY may seem simpler and cheaper, it can cost you more money and time in the long run if done incorrectly. Hiring a professional gives you the peace of mind that your new backsplash will look pristine in your space for years to come.
At Footprints Floors, our master contractors have experience installing all types of wall tile and backsplash. We pay attention to every detail for a result that will stand the test of time. Contact us today to get started!
Great Floors & Great Impressions Are What We Are All About!
Schedule
Your Backsplash Installation Today
---
These days DIY projects are very popular, and of course we understand why. It may sound fun to get our hands dirty, take on a new project, learn something new and be responsible for the end result. When it comes to wall tiles and backsplash installation, however, we recommend working with professionals.
When approaching wall tiles and backsplash installations, many first timers choose an affordable and easy stick and peel option. These are not ideal. Their lasting power is limited and although they seem approachable, they will not provide the same impact or protection that a true wall tile is designed to accomplish. If you truly want your wall tile or backsplash to be a statement piece you need the end result to be impeccable. The design, the lines, and all the edges need to align just right. At Footprints Floors our master craftsmen expertly install any wall tile and backsplash while paying attention to every detail for a stunning look that lasts.
If you are tempted to approach the project yourself because of concerns regarding the cost of installation, keep in mind that our prices and services are unmatched. We are an affordable option too. And let's not forget the value of your time. With Footprints Floors you can save money, time and experience a stress free project.
Get a Free Estimate Today!